Black Lust Perfume
(?)Community Member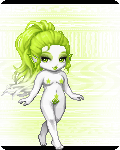 Posted: Fri, 20 Jan 2012 17:15:56 +0000
The New Headmistress
Black Lust Perfume
Lady Peverell
Oh my gosh, it is SO nice to finally meet someone who has a disability such as myself!!

I'm deaf in my left ear, and hard of hearing in my right. I was born this way. I LOVE your avatar! And I admire this thread you started! You're the first Gaian I've ever met who I could connect with! Would you like to be friends? (:
Honestly, I find that a very
insulted
when you named Deaf people "Disability".
While it may be insulting to some, some people learn it's a disability and some people think differently, there's no need to feel insulted or judge based on ones intelligence of what they have. This person was trying to connect with you in a way she hasn't had with anyone before. She is my best friend although we can't speak properly on the phone, when I visited her we wrote notes, but it all made it seem much more secretive, more personal than speaking. My great grandfather is also partially deaf, I see nothing wrong with deaf people.
To avoid an argument and drama, I've said my piece and took up for my best friend, as I should have, I'll no longer post in here, so please just ignore this message.
Disability shows that we "Cant" do much things. Im against that word- I CAN do anything. I hate it when Government labelled us that, that why I refuse vote.
Quote:
A disability may be physical, cognitive, mental, sensory, emotional, developmental or some combination of these.
Deaf is based on ears that is not working. That called Disability? Dont think so.
We al humans are same, but we cant hear. We can do anything really. There is Deaf people who is Musician, Doctor, Social Worker, Lawyer, etc etc. Many Disability people dont have that success jobs.
We just cant hear, or not fully, we still chase our dreams and we dont let government stop us and tell us to "Stay home and be on welfare" ******** that.