Luminous Melody
(?)Community Member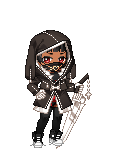 Posted: Mon, 15 Oct 2012 01:12:08 +0000
Alexandra Walker
Guardian
I couldn't let anything happen to you, You're too cute.
She had actually gotten an answer! She hadn't spared any time in yelling at the phone to see who it was, though when she was done she heard a male voice... Zane. Her replied with some obvious sarcasm, commenting on his day.

" Zane... I'm stuck here. You do realize I need to be there too, Right!? "

She started out calmly though gradually she began to yell once more. What came from Zane next was something she'd hit him for if He could... He claimed she was there with them! " You idiot! " He seemed to realize his mistake, though He didn't seem to offer any comfort as He went on to comment that she'd need to find her own way back to base.



" You tell me ho- "

She began to say before cutting off as He spoke, the others said hi and that they missed her? She couldn't tell if this was zane being an a*****e or if the whole team really was. One thing was for certain, She was going to cross off the whole apologizing for calling the team assholes, just in case.

" Zane... ZANE! "

He had hung up on her.

" Oh... that damn pretty boy, When I see him I'll... I'll "

She said to no one but herself before stomping her foot down again.



" Zane, Your a** is mine! " She shouted into the sky, again to no one really... If Zane heard her that would just have been a miracle... and moderately impossible. Quickly selecting another number from her phone, she checked it this time... She was going to try Pandora, that girl was pretty damn sweet. She wasn't expecting a pick up anymore, No she just wanted someone to hold onto Zane for when she arrived. Before calling her though, Alexandra took a moment to let out a sigh and try to think of possible ways back, aside from walking. Finally dialing the number, she waited to see if Pandora would answer this time, hopefully this one wouldn't give her as much trouble as Zane.

" Hey, you guys left me behind, but that totally doesn't matter now... Just tell Zane to prepare his a** because when I catch up with him I'll be shoving my foot so far up it that its going to be a three legged race to the hospital. Okay, Cutie? Thanks." Yep, that was what she had to say to the poor girl if she decided to answer, or if it went to voice mail, a threat towards Zane for being Zane. Sure, Zane was a pretty cute guy and normally she'd willingly go about flirting with him but every so often He just managed to get on her nerves.

She wasn't entirely sure on her ability to hurt Zane though, He was probably more skilled at the whole fighting thing then she could ever be... But hey, a threats a threat and it gets her anger across. With a sigh, Alexandra started her walking regardless of whether Pandora answered or not, She'd have to get to base somehow so she didn't get in trouble... Though chances are she was going to because she sure as hell wasn't getting their quickly. With her luck though the damn transport would turn around for her after she got a good deal away. Letting out another sigh, She looked down to her feet as she walked. " Stupid Zane. "

She was still annoyed with him, and she hadn't even noticed the comment about her 'flawless buns'.