About
A bit about myself:
-I'm a Nintendo Fan through the good and bad and proud of it.
-I love comic books.
-Musicals are the best genre of film and stage, bar none.
-I'm single and loving it.
-I enjoy the occasional roleplay, be it digital or tabletop. I have had the absolute pleasure of being a part of a wonderful series of roleplays that's on its second year and counting.
-Card games are my one true love. Cardfight!! Vanguard and Magic: The Gathering especially.
-I'm fluent in Sarcasm, while
my best friend
doesn't speak a lick of it.
-I have recently traded in my car for a bike and I'm enjoying every second of it.
-I'm sexier than you, and no, you may not touch me.
Friends
Viewing 8 of 8 friends
Journal
Art I've received
Yay art!
Signature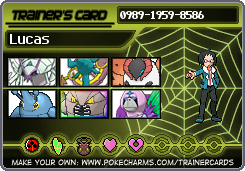 Career breeder, shite battler. HMU.