Silver Death Okami Kyu
(?)Community Member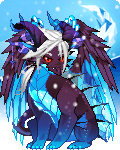 Posted: Mon, 09 Jan 2012 05:32:16 +0000
Kyu, the snow leopard, experiment number: SL0968K.
Icy blue eyes, doesn't mean I'm friendly...it means I'm cold and dangerous... Come closer child... and let me taste your blood, then send you to where the other children play... Don't be afraid, I'm only going to see you free
The humming of another day, cars traveled to and from, people talking to others or themselves, what pitiful souls they are. The light of the sun blazing down onto the city or metropolis, everything was the same thing. People got up, went to work, had lunch then went back home to their families. Oh how much life was grand for them, not a single care in the world, how lucky for them but then again.. They weren't to lucky to be blessed with such power.
In the alleyway, she sat silently, cold icy blue eyes gazing outwards already feeling quite hungry, yet when she got hungry there was no telling when her hunger would end. She longed for someone stupid enough to wander into her territory, when someone did she grinned in the shadows. A small child no more than 7 walked along with her mother, hand in hand, the child casting his glance to the alleyway where the chimera was hidden purposely, she let her tail come out into the open as she gave a almost realistic ' meow' as if she were a kitten.
" Mommy mommy!"
The boy cried as he pulled on his mother's hand getting her attention.
" there is a little kitty in there! Can we keep it please?"
The boy asked, as his mother merely shook her head.
" We can't keep animals honey, we just don't have the proper care for an animal right now.. And besides, we don't need a filthy ally cat in our home spreading a disease.. "
The boy looked up to his mother with such sad eyes,
" please mommy, the kitty, I'll take care of it, I promise!"
He pleaded, only to see another rejection from his mother.
The boy sighed sadly, he wanted to help the ' kitty' out so badly, looking to his mother once more,
" can we at least give the kitty something to eat? Maybe then it'll come out so you can see it."
The mother, now irritated at her son's constant nagging about the cat, giving him a stern look,
" Feed it a few crumbs then lets go, we wasted enough time already."
The boy didn't mind his mother's tone, he was just happy he could help the poor animal, walking into the alleyway with a napkin full of crumbs and a piece of a chicken leg, he smiled and went towards the feline.
" here lil kitty, this should tied you over until you can get some real food in ya."
Such a sweet boy this was, sweet but so naive, was he not aware of the dangers the city was in? Oh well.. As the boy set it down, he heard a voice that said. " your mother is very rude, and yet you are so kind.. perhaps a lesson in kindness is what your mother needs.. Don't be afraid, though little boy, I'm only going to send you to a nice place where all the good little girls and boys go, when they try to do something nice for others." Before the boy had time to speak let alone react, quickly, he was grabbed by the kitty, he screamed out in bloody horror as he felt sharp teeth rip into his belly and neck.
The mother, wasted no time in running to aide her son, but when she found him.. she screamed in horror.. his body was sliced to no end, as the snow leopard that did this to him was right next to her. " Such a sweet young boy, he had such wonderful blood and such a kind heart. But don't worry though, he's with all the good kids up in a place where they rule.. but for you lady.. you got some nerve calling me dirty.. " As the lady looked behind her, Kyu, lunged at her biting down on the woman's neck, killing her instantly. Dragging the body off to her little corner, she grinned. " Next time lady.. don't speak before you know what you are getting yourself into." She smiled as she began to dig into her newly found meals.