??Who is??
"--Riddle me This? 'Indifference donning mourning shroud, cutting all the mortals down, opposite to birth and life, filling the world with pain and strife. What am I?' Obviously Death...or Dead, which is exactly what these hostages will be if you don't solve this next Riddle! Who am I?"
The person who made me who I am...: Why me of course silly! I am THAT amazing!
My Mother calls me..: Edward Nashton
But I prefer to go by...: Riddler
However, I have also been called... Prince of Puzzlers, Crowned King of Conundrums, Quizmaster, among others...
Age is just a number, which happens to be...: 37
I was born as a....: Male, heir to the cities knowledge (which is highly limited)
My current place of residency: Gotham City, anywhere and everywhere
One of my goals for the future: Rule Gotham completely...no! The world, I can do that...why set my sights for anything less?
I prefer the company of...: Doctors, Inventors, and Geniuses, really anyone who has an IQ over 180 will do...
This song about sums me up...:
'Dance of the Knights' by Prokofiev, my favorite classical maestro
This is just a bit about myself....: Born and raised in Waterbury, by a loving Mother and Father, who always only wished the best for me, who pushed to strive me to go further and further with my intellect. They discovered I was a prodigy when I started reading at the age of four, moving swiftly onto college grade texts at the age of seven. Once I turned the tender age of ten, I was placed into a vast array of programs that boggled and worked the mind, music...string instruments like the violin, and the keys. Chess playing, writing sheet music, dictating mathematics and quantum physics. However my secret love was always for tricks, and Riddles, which I fell in love with after a contest that was held at my private school, the game, who could assemble a puzzle the fastest, every night after the school closed I would practice assembling that puzzle, until I finally mastered it to 15 seconds, I wanted to win not just for the prize, but for the fame, for the glory...needless to say while I won, the only attention I recieved was from the hands of bullies, still the show must go on! Ever, and always has it been my goal, to constantly push the limits of Mans simple mind, to try and achieve more. When I grew to adulthood, a brief stint in the 'working class' proved terribly dull and uneventful, I needed more...and so I went on my first crime spree, calling myself the Riddler...the first crime...no one listened, I HATE when people don't listen...the next crime I commit...they listened...I always get my way!

My Strengths... Intellect, wit, weapons master, clever, master manipulator, Gadgets, escape artist, agility, insanely rich, leadership, marksman, stealth, swordsmanship, tracking...
My Weaknesses... Well what would be the fun in revealing that? You'll simply have to find out now won't you?

I've always prefered to walk the path of...: Evil I suppose...its always only been in fun and games though, sometimes you just have to crack a few eggs to make an omelet...
When I fight I tend to use....: My Wit! My Superior intellect! But when I really need to get my hands dirty, my beloved question cane, or a simple gun...though I do appall the use of such basic weaponry...I'd much rather lead my foe into a trap...
I always try to look my best...: Green, Black and purple, tailored suits, spatz, always dapper...afterall one must always look his best...
[[Yes! I RP, please consult me whenever you wish...]]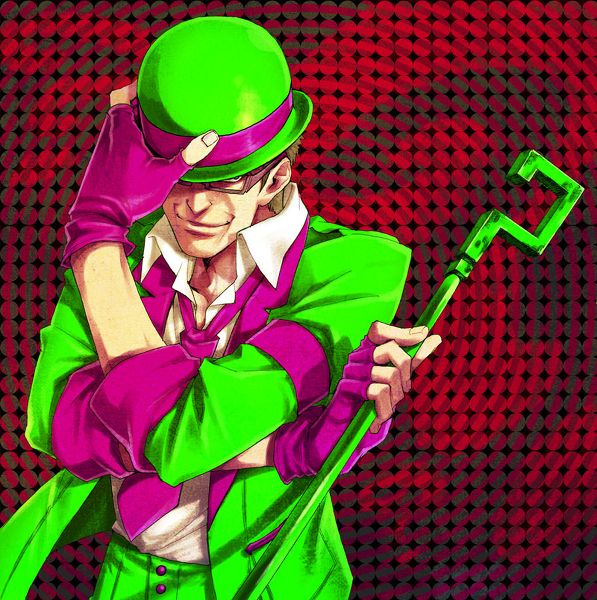 "--Working stiff fashion, simply does not suit me...refinery, consider it a middle name..."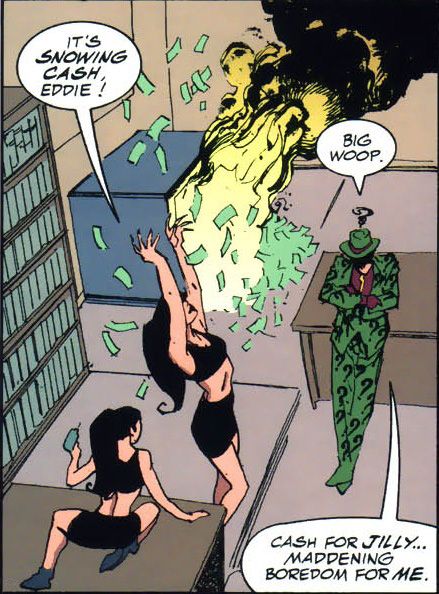 "--Sometimes it pays to have sidekicks, hired hands to help do my dirty work, I don't much fancy getting my hands dirty...not in the literal sense, but its so difficult to find like minded individuals, while I loathe them...I just grin and bare it... but really I am more like this..."
"...Infuriating morons, how I despise them all insatiably."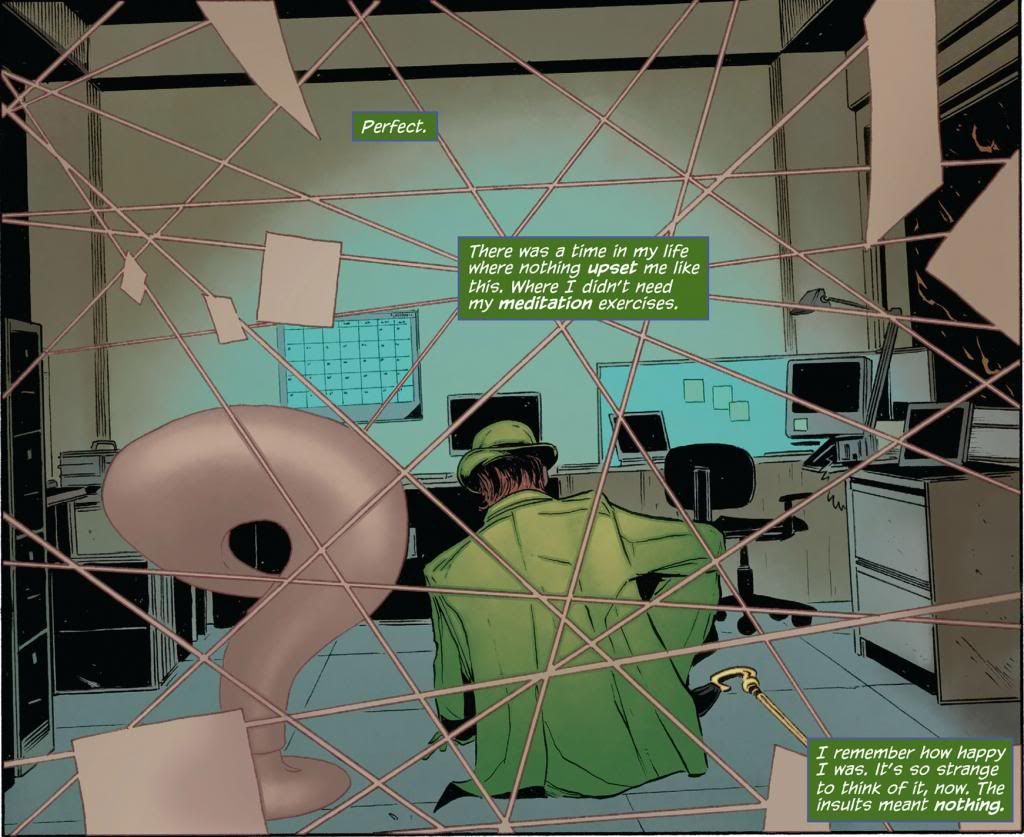 "--My Mind works indefinitely, always ticking, always turning, like a well oiled clock, I have everything planned out always, steps ahead of the rest of the world meticulously, but sometimes I just need to take a seat and think, sometimes being so intelligent can be lonely..."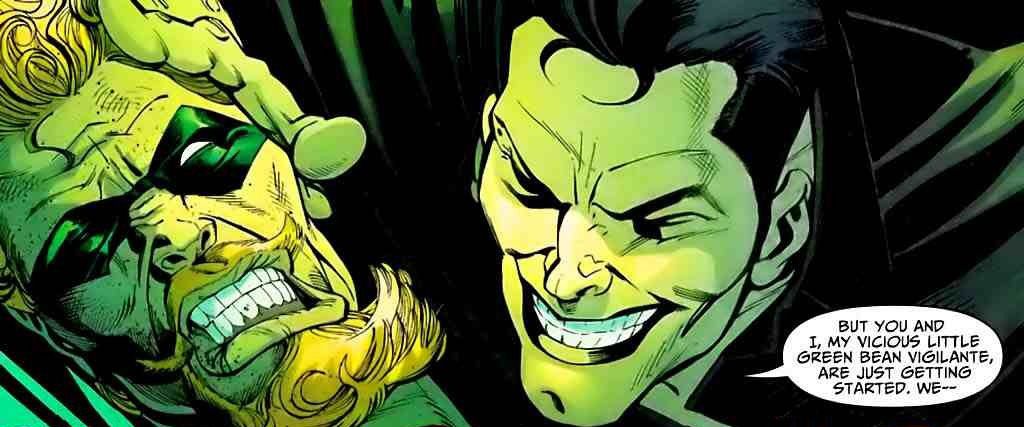 "--Gods I love to tamper with them, what precious little playthings these people are, like silly little dolls...they are meanless, but with my help...I give them purpose..."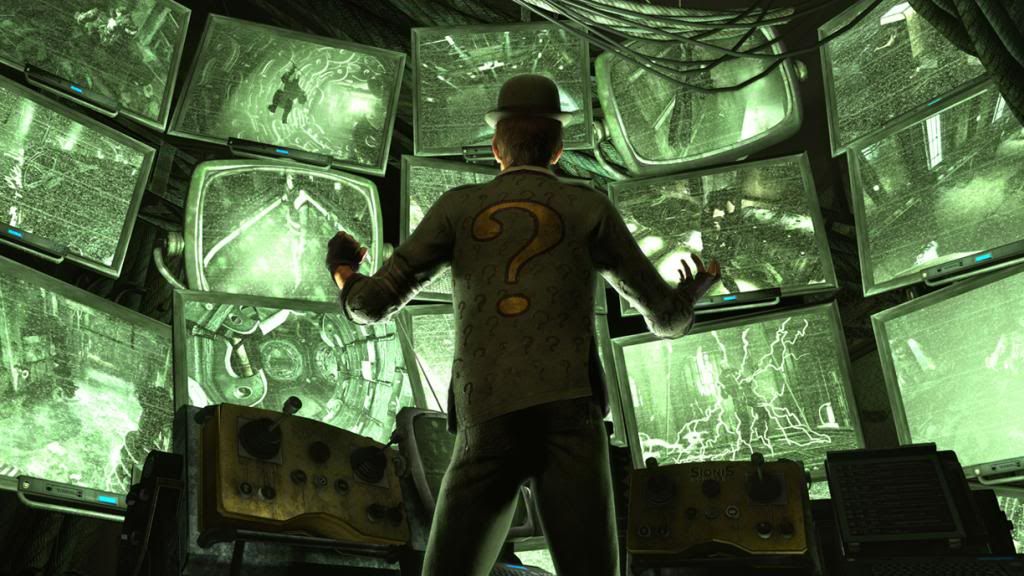 "--With a mind like mine, the world is small...so very teenie and convenient, from the four corners I can see it all, I can know everything...this city is minute, trivial, and it, and everything inside belongs to me...and only me..."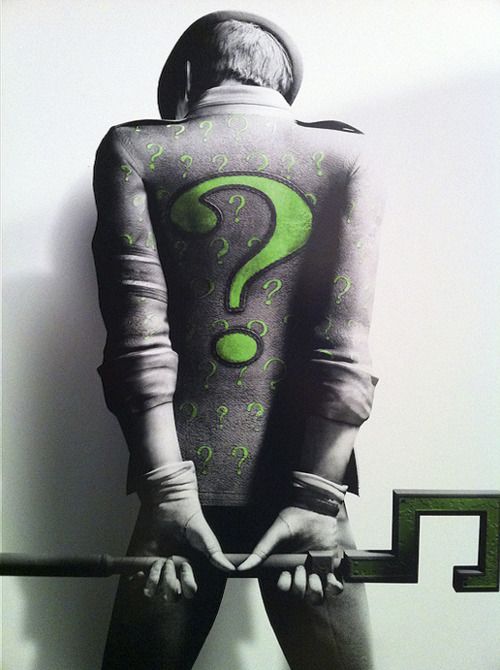 "--When the world finally ends, it won't go out in a bang, but a whimper...and I will be the one to silence it, laughing...Thank you Gotham, its been a wonderful Game..."