All About moi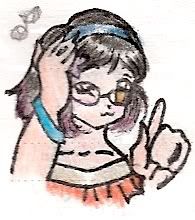 Where should I start? it's been a while since this was written but,
My birthday is on January 30 and I'm a Aquarius. I like to draw. I hope one do to some sort of animation work.
Likes: Anime, Manga, animals, food, art, j-pop, shoujo manga, romantic comedies, my friends, Phoenix Wright, video games
Dislikes: Nosy people, needles, anything associated with blood, rude people, people who can't sing, spiders, waking up early, shrimp, bitter foods.
Favorites singers/bands: Shania Twain, Nami Tamaki, T.M. Revolution, HIGH and MIGHTY COLOR, Kinya Kotani, Nana Mizuki, any song that catches my attention.