Alea Facta Est
(?)Community Member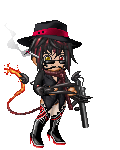 Dangerous Lunatic
1,400 Points
100
Posted: Sat, 30 Jul 2005 04:11:48 +0000
Credit to Sargent_Stupid for the sexy banner.
****NOTE: I'm kind of undead on Gaia, AKA I keep coming back just to screw around with my ridiculous little avatar. So if you have any really good requests to add to the original post, go ahead and message me about them! (No friend requests please. I'm not actually that involved.)****
People go on and on about all the things good writers need, and in fact become so obsessed with 'What makes a writer good?' that they forget all the pitfalls and thus fall into idiocy as easily as they create eloquence.
Thus, the Anti-Guide: a compiling of ways to totally screw the living (well, figuratively living) s**t out of a story.
Admittedly, my respect for awful writing has increased since I myself tried it. It's remarkably hard to break all those good habits....
Reminder--these are things you shouldn't do, so if you say something like
Quote:
Don't use Mary-Sues
it means that you think a good story has Mary-Sues.
Spawn:
Anti-Guide Round Robin
Harry Potter Anti-Guide
Naruto Fanfic Anti-Guide
Issues:
I do ask you to try something beyond fantasy, of which there are already a trillion awesome (or should that be awful?) suggestions. Don't venture into unfamiliar territory, but try to be creative.
Occasionally, posts will pop up that list things that have been beaten with a stick to the point where they are less than dust. Try to keep these posts going.
Also, don't worry about people who missed the anti- part of the Anti-Guide. It's kind of funny and absolutely not worth getting hung up over.
Strikethrough is unnecessary. We'll assume you're being sarcastic...and it hampers readability. Using double parentheses to signify your actual thoughts, however, is a good idea. Just don't mix them in too much.
smile
(Separate paragraphs=good.)
If you write a hilariously cliched story based upon something you see in this thread or you find more spawn, PM me and I'll post a link to it here. (Of course, this marks you as a bad person who wants to burn out the eyes of your fellow readers/writers.)
Check it out, the Anti-Guide has even spawned love poetry, credits to wingnut the improbable:
Quote:


Happy birthday to the Anti-Guide!
How I love you so,
Your sarcasm like cyanide
Your silliness like... whoa.
You're a whole year old, now
A geezer for a thread
But I'm still in love with how
You mess with writers' heads.
Long live cliches! Long live bad writing!
Long live things not true but tried!
Long live Sues and inept fighting!
Long live the Anti-Guide!

***

Oh Anti-Guide! Oh Anti-Guide!
You couldn't be cooler if you tried!
Your stashes of knowledge misinform
You always make my heart go warm!
You're full of arguements in 1337
The Anti-Guide can't be beat!
You love promoting Mary-Sues
And SuperAngsty (tm) pasts, too!
You have your n00bs, but that's OK
The Anti-Guide is here to stay!
(I hope)