ExcessivelyTimewise
(?)Community Member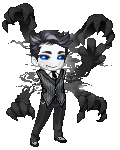 Posted: Tue, 17 Jul 2012 03:11:08 +0000
"I know now that there is no one thing that is true - it is all true."


Byerley paused, seeing only the shock of pink hair that sprouted from the side of the person's head; if she hadn't beckoned and called to him, he might have mistaken her for one of the raiders and drawn sights on her in preparation to fire.
He didn't, however he still kept his distance. Eyes flickering like an old holotape film reel as he observed the thin almost-dissipated dust behind them. For all he could see, there didn't appear to be anyone within easy range; there was movement out there, but he'd need a scope to pick the raiders off at that distance. Byerley lowered the rifle and walked closer to the injured group, eyes moving to the barricade from time to time. "I don't know, the watchman did run past and was headed in the direction of the clinic. It is highly likely…perhaps we should meet him half way?"
Save for the man with the head wound, the ragtag group looked as if they were capable of walking. Despite their various injuries, moving away from the barricade would perhaps would be better than waiting there for the doctor, if the doctor was inclined to get that close to the barricade in the first place—no one else in their right mind would have cause to do so, if not a medic.

He should be more helpful himself, perhaps, especially if he wanted to last long enough to see the end of the siege and get to New Vegas in one functioning piece. "I can assist in moving the injured if needed, or stay behind in your place." For a moment, it really didn't matter if his manner of speaking was entirely different from the more localized accent of the townspeople. He didn't detect much of a familiar accent within the pink-hair's voice either, so it was likely she may be an outsider too and more likely to trust him than the others were. It was a good start and hopeful, at least.

He was beginning to miss the unwary human interaction that the old junk vendor had provided prior to his death, as everyone else strayed away or was unusually removed from any approach. Suspicion was generally unwanted, as it could lead to snooping and snooping generally lead to discovery. There was no telling how a tiny backwater place under immense pressure would react, anyway.

[[Eh? EH? Picture's better? y/y?]]