ExcessivelyTimewise
(?)Community Member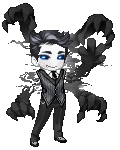 Posted: Fri, 19 Oct 2012 03:16:19 +0000
"I know now that there is no one thing that is true - it is all true."


Byerley nodded, as he checked his rifle and made sure the round was loaded and ready to go. He'd perhaps only have one if they indeed encountered raiders out in the field. So far, however, things had been quiet as Byerley kept watch in his own portion of the field, scanning the horizon line for signs of movement. The sun hadn't quite risen to the point that any light it cast would be of use, even to his eyes, so he lingered uncertainly in spots before moving on to gain a different vantage point again.
Something at the edge of his field of vision caused him to pause and wait, rifle slung at his right hip as he cupped his hands around his mouth, turning to the others to issue a sort of harsh crow-call that caused the actual creatures to become startled and take to the sky. The raiders were still a ways off, and hadn't spotted them yet, however the crows taking flight had caused their pacing to slow and quicken. As he watched, Byerley couldn't help but to smirk to himself. That had been a damn good call if it alerted the actual species.
—No time for gloating, he reminded himself; rifle in hand as he remained still and took careful aim.

Needless to say, the Raiders were many feet away from him before he fired off a shot, killing the encumbered packmule of the group instantly, as the bullet took the back of his skull with it upon exit.
He barely had time to shoot another in the throat before scatter shot caught his leg. It barely registered on the tactile web under the synthetic flesh, however it alarmed his system that he briefly contemplated fleeing but—unlike Eva—didn't have time to detect where the mines were.
Another grazing shot bit into the dirt by his feet as he braced and reconsidered that decision. With eyes scanning the ground quickly as he made his way back to the others, he managed to make it close enough that he wouldn't have to shout at the others. "We have a problem, there's a group of raiders--two dead, but two are still living!" With any luck the Raiders would still be trying to figure out which direction the shots had come from and that may stall them for a few moments.