About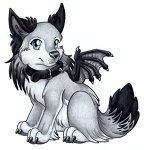 I adopted!
Name:Svell Valdyr ( Ice wolf)
Age:15
Likes:Hunting zombies, beef jerky and meeting other dog...dog things?
Dislikes:Zombies (thats why she hunts them) people who don't help noobs in need.
Owner:RedZeroFive(Cristian)
Get one now!
Hi Im Cristian. Im 16 in College, and YES I HAVE A GIRLFRIEND!! *points to the GIANT avi next to him.