Pink Fregia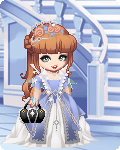 Details
Member Since

02/13/2008
Location

Third Rock from the Sun.

Occupation

Student.

Gender

Female

Birthday

10/08/1960
---
Interests
Favorite Movies/Anime
Favorite TV Shows
Favorite Music/Bands
About
Mom of 5
Grandma of 2.
I live in the USA.
I'm from NY (not city)
Now in NM
College student studying Hospitality
I like most kinds of movies, from the old B&W's, to Sci-fi, to modern sick flicks.
No out right slashers or mushy chick flicks.
Music depends on my mood, but I listen to rock & such but no country.
I have found I like foreign music
I'm here on Gaia because of my son, he made Pink for me. I stayed here for the games, puzzles & to meet people from all over the globe.
Pink is my modern day Barbie doll. Without Ken, cause it's more fun that way.
Pink now has Facebook.... "Pinky Fregia".....friend me.
Pink's email is...... pinkfregia@yahoo.com.....write me.
https://www.youtube.com/watch?v=fw8BAp5vDZo
If you are here from one of the guilds, as a Secret Santa, my WL has high cost items. I like backgrounds, items in pastels and rainbow colors.