Fried Ovaries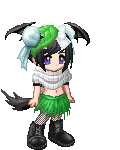 Details
Last Login

07/29/2011 5:13 am

Total Posts

7567

Posts Per Day

1.19

Member Since

04/10/2005
Location

In yourr pants <3

Gender

Female
---
Interests
About
BerryChii.deviantart.com
Currently playing; Comiket
By; LeetStreet Boys.

--I'm 21, so where's my booze?!
-I'm a Leo &&Dragon in the Western/Chinese Zodiac.
-Favorite colors; Teal &&purple.
-I'm in love with Steven~ Feb 18, 2010
-I love drinking fruity flavored alcohol.
-Love Comedy/Horror animated kid films.
-I like blowing bubbles in my drinks especially soda.
-I listen to Japanese/Techno/Classical/Alternative/Industrial.
I am
an aspiring
anime artist/voice actress
/computer animator.
Currently Reading;
The Manga Cook book, Black Jack
"Let me cover yourr strawberries with my sweet white chocolate~!" -Fondue.
Journal
Cream yourr pants ;D
Multimedia
Signature
Plus Size = Sexy

TAP MY TANK PLEASE :3
[XXX]<---- Click here if I'm glowing.