About
|----}''|''|''|''|}-----
I have a thing for facial scars and peoples flaws. I love imperfections.
I forgive easily, but i never forget.
I am not afraid of being honest. I am a TERRIBLE liar.
Im actually extremely intelligent. Dont let me fool you.
I have a medical obsession. Not a medical fetish. I collect hospital paraphanalia. I will rob the ER.
I currently work as a machine insterter. But i plan on becoming a Certified Nursing Assistant soon.
I love animals. I reside with three kittys named Frank, Rocco, and Buttcheeks, and a pain in the arse husky named Denny.
I have a hard time sitting still sometimes, and its hard for me to grasp the concept of cleaning.
I refuse to be ladylike. Grudges are a waste of perfect happiness. I laugh all the time. I appoligize
only when i should. I love deeply and forgive quickly.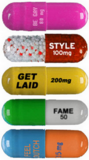 I dont usually take chances, but i give
everything. I have no regrets. I smile when im sad, and i love what i got.
Im nowehere near perfect, and im vulnerable to believing lies.
I get bored very easily. And sometimes my logic and morals get in the way of me being silly. I act to mature for my age.
Oh well, i think i will just go F**k myself then.
"The two most common elements in the universe are hydrogen and stupidity. I think the surest sign that intelligent life exists elsewhere in the universe is that none of it has tried to contact us"
"There are two kinds of light, the glow that illuminates, and the glow that obscures."
Seriously, hes my main source of happiness. And i wouldnt have it any other way.<3
"To laugh often and much, to win the respect of intelligent people, and the affection of children, to earn the appreciation of honest critics and endure the betrayal of false friends, to appreciate beauty, to find the best in others, to leave the world a bit better, whether by a healthy child, a garden patch...to kno even one lifehas breathed easier because you have lived. This is to have succeeded."