AleistairBlack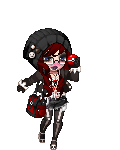 Details
---
Interests
Favorite TV Shows
Favorite Reads
Hobbies/Interests
About
Hello~
My Name Is Elizabeth.
But I Prefer Going By Aleistair



20
5"7
Pudgy Angry Ball Of Hate And Confusion

Witch

heart Vegan heart

heart Proud Feminist heart

Autochorissexual/Demisexual

Currently Working At Lush USA heart

Non-Binary (They/Them Pronouns Please)

Artist

Really Bad Memory

Gamer (XBox 360, PS3, 3DS, PC)

Cosplayer

Likes: Cats, Birds, Cuddling, Sleeping, Blood, Cats, Dogs, Food, Boobs, Video Games, Shitty Horror Movies,Tumblr,Candles,Stone And Rocks, Meditation, Yoga, Walking Around On The Beach, Burning Things, and many things. i like alot of things.

Dislikes: Bronies, Wasps, Republicans, Sleeping, Food, Cold Weather, Hot Weather, Men Who Think They Are The Best Thing Since Sliced Bread, Being Lazy, My Terrible Sense Of Time And How It Passes, Bugs, Cows, The Methheads Who Live Nextdoor, People Who Mow Their Lawn At 6am,The Sun, Old People.


Friends
Viewing 12 of 181 friends
Multimedia
Signature
[imgleft:4ff0dbde6d]http://i.imgur.com/3AEjsxD.png?2[/imgleft:4ff0dbde6d]
3DS: 2638-1681-1026


Mostly Bored. Feel Free To Randomly Pm Me ^w^[/size:4ff0dbde6d][/color:4ff0dbde6d]