About


"...For the twists and turns throughout what has been my past
The certainty of change applies to all but the one who wields it.

Deaths and Births, woe be to the unwise, for their travels will be their undoing
Though no longer by my hand, my blood still bears it all..

Little comfort within the frigid embrace of the shadows
Dust was much that gathered there, paired with the fragrance of untold death

Yet still It meld to me as my flesh, securing the solid fortitude
that has captured me, remaining within my soul.

My story remains a painful unending cycle
In the midst of blissful jubilation, the shadows still call

The severing of destiny and blood
Ice cold in the eyes of Lambda's master

The single piece of life which rescues and destroys me
He whose existence provides a single, unyielding sliver of hope

He who, with his vibrance, shone his light
Whisking away the solemn corners of my heart

That precious youth that was never mine,
one whose dreams once did not exist,

He who shares my bed, who warms my ancient bones...
Is he not distraught by that which has been taken from him?

He who melded with me in that strand of hope, entwined in echoes of thievery
And from that bed, coated in irony, twice a vessel of my element have I become, as the fruit of the flesh ripens within my womb

A place once barren, in unison with my very soul
Ripped from a demi, barren of love

A change in relation to a meager vessel that contains it, and in so doing
Closer to my element, my lifeblood have I become...and of myself...

I am like a stone the ocean wears away,
I am the stone, and time, that cruel synecdoche

I am not yet free from its terrible grasp by command and taboo, for of myself...

...I have not yet given enough. "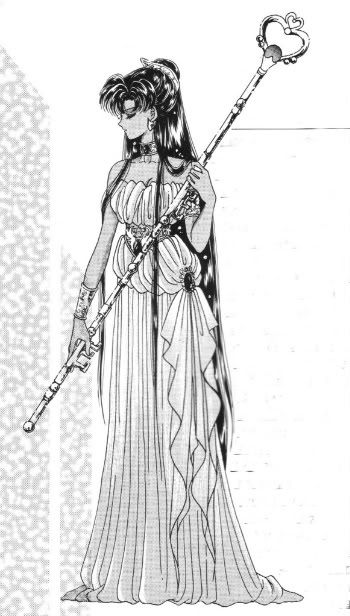 ~~~~~~~~~~~~~~~~~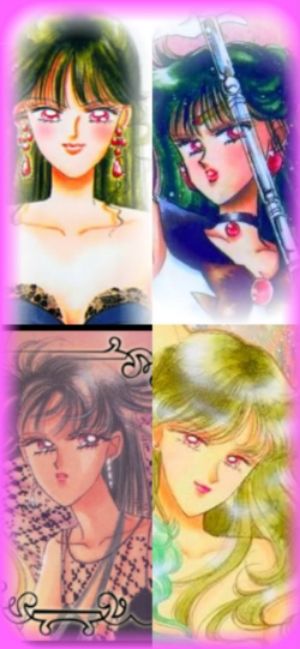 冥王星の美しさ



~~ ~~About Me~~ ~~
Married Name: Setsuna Meioh Tiger
Maiden Name: Setsuna A. Meioh
Nicknames: Setsu, Sets, Setsuna-san, Setsuna-sama, Sunset rose.
Senshi Alias: Sailor Pluto
Royal Alias: Princess Pluto, and sometime Queen.
Guardian Planet: Pluto
Signature Uniform Colours: Deep Red and Black
Element: Time, Space, and Lambda
Birthday: October 29
Age: N/A (Always appears 27)
Gender: Female
Race: Plutonian (1/2 Primordial)
Stereotypical Appearance: Native American/Egyptian
Appearance: Exquisitely mysterious and unusual/ dangerously exotic.
Personality: Regal, Elegant, Calm, Statuesque, Solemn, Intelligent.
Hair Color: Deep Pine/Evergreen (this serves as no mistake, as evergreen trees often serve as symbols of eternal life, even in Plutonian culture)
Eye Color: Dark Cherry
Skin Color: Medium Tan/Cinnamon
Hair Style: Half pulled up and secured in a twisted bun.
The rest falls down long and is only slightly wavy.
Occasionally braided. Occasionally all pulled up in a larger bun.
Hair Length: Falls down to the back of her knees.
Height: 5'10
Weight: 145
Measurements: b39 w24 h37
Body Type: Tall, Solid frame with hourglass shaping.
Astrological Sign: Scorpio
Bloodtype: A-CH
Sexuality Orientation: Straight
Partner: Tigers Eye
Favorite Gemstone: Garnet
Flower: Black Rose
Favorite Color: Deep Crimson, Ebony
Favorite Food: O-cha (tea) and cherries.
Least Favorite Food: Eggplant
Bad Habit: Over-explaining and over-analyzing. Brooding over things to a seemingly unnecessary degree.
Favorite Subject: Physics and Geology
Least Favorite Subject: Music
Strengths: Sewing, Reading, Science, Being a mother.
Weakness: A natural leader, therefore capable of being controlling. Also has the distinct habit of taking any subject and breaking it down into a scientific viewpoint, which can often lead to giving too much information. She has also become more worrisome, as is expected when becoming a mother.
Hobby: Sewing, Designing, Reading, Scientific Experiments, Archaeological Expeditions
Dislikes: Cruelty, manipulators, double-crossers, dishonesty, betrayal.
Dream: To be a designer and a mother.(Both of which have come true, more or less.)
Planetary Talisman: Garnet Orb
Power: Time, Space, and Lambda (for those of you who don't now what that is, it's the dark matter of the universe. The space between the stars containing dark matter, also found in the core of a black hole.)
Guardian Domain: The Underworld
Developing power: Lambda creation and manipulation







Transformations:


1: - Pluto Planet Power, Make-up (Sailor Pluto)
2: - Pluto Crystal Planet Power, Make-up (Super Sailor Pluto)
3: - Pluto Eternal Power, Make-up (Eternal Sailor Pluto)



Items:


1: - Planet Transformation pen (Henshin Stick)
2: - The Garnet Orb (Third Talisman)
3: - Time Staff/Garnet Rod (and Key to the Door of Time)



Attacks:


1: Dead Scream
2: Garnet Ball
3: Time Stop (An attack she cannot use without extreme consequence)
4: Chronos Typhoon
5: Lambda Transfiguration (Developing power)
6: Elemental Meditation (Developing ability)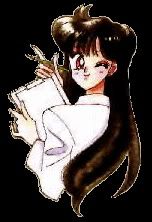 Family





Husband:


Tigers Eye


Children


- Suzuka Meioh
- Juneko Meioh
- (unborn son)



Father:

Lord Chronos, The God of Time


Mother:

Lucretia Meiohsei

***************************************
Beloved Chibiusa
Disclaimer: Sailor Moon characters, belong to Naoko Takeuchi. Art is not mine. All fanfictional expansions of Sailor Pluto by myself are for fun and roleplay only.
Multimedia
Signature
"I am the Child of Time, the Harbinger of Revolution, and the Lady of Change. I am Sailor Pluto. Woe upon evil that may cross my path, for punishment is close at hand."