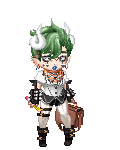 PARADIGM &&. HONEY WILDFIRE
Honey Wildfire is the sister of Sakura, turned mercenary by the witches.
Paradigm is her best friend, who goes by Dimme. Though she can protect herself, Dimme is often overprotected by Honey Wildfire. The purpose of their friendship is to bot illustrate my past with the separation of Sakura and Honey, and to mirror Honey so that she can see what she is doing wrong with her life. Dimme is unlike Sakura because she is not as kind or forgiving. She is almost a more grown-up version on Sakura, thus why it makes Honey sad to watch her at times.
The two of them met when passing a bridge that Dimme was guarding. Honey obviously beat her a** but saw something worth saving so tried to befriend. At first Dimme was greatly offended but persistence on the part of Honey triumphed.
Awesome.