endless p r e l u d e
(?)Community Member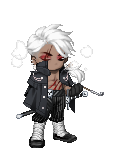 Posted: Wed, 02 May 2012 06:57:09 +0000
________________________________________________________________________

________________________________________________________________________




The answer to his question wasn't exactly what he was looking for. A sarcastic smirk flitted it's way up to his pale lips, toying with the answer she had just gave. It was morning. Well.. you don't say? prang of pain shot up his left arm when the nameless woman reached for his left arm. Without much thought, he jerked the injured arm away, allowing the limb to be swallowed into his cloaks darkness. He hissed under his breath and set a hard eye on the frail brunette. Was she trying to help? Such brash creatures that roamed this planet. This planet. There we are.

What planet is this?

Any eye glanced quickly to the old chair that she had indicated, the stubborn youth shook his head. He'd stand right here 'till he gathered right information. It was no use relaxing in such an alien planet.