About
The Elemental Storm
in my journal. I would appreciate any and all readers to leave comments on ways to make the story better, whether or not you like the plot and anything else you might think could help me in publishing a successful book. Thanks!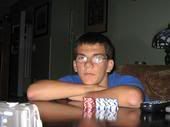 About the Author:
Well the by line will read: Kenny K*******
Author's current age: 19
Hometown: Go Rays!
Place of Birth: Lynnbrook, Long,Island,New York
Interests: Sports(Mainly Baseball and Footbal, the occasional Hockey game), Video Games, Taekwondo(not part of sports because its that damn awesome, I'm a 2nd Degree Black Belt), Writing, Doodling(Not good enough to call it drawing), Anime(Trigun and Chrono Crusade are my favorites) and Gaia(Nice to be in contact with my target audience.)
Pet Peaves:Idiots, Arrogance, Cliquey people, Gaians that rate my writings but don't comment to help out.
Things that make me feel old: I don't get the draw of Hip Hop(or Rap for that matter) Culture, I would appreciate anyone that can explain it to me.
You Are 38% Evil

A bit of evil lurks in your heart, but you hide it well.
In some ways, you are the most dangerous kind of evil.
How Evil Are You?
Friends of the Author:

Katsa:
Strong Willed, caring, beautiful, and an amazing friend. She's a great example to follow, anytime we talk I'm a tad happier.

Juugo:
The gentle Giant. Guy who's been my friend since we were kids, would trust him with a gun to my head. The one person in this world I can trust with anything.
Justin Law:
Another buddy from childhood. A devout Christian but not one of those irritating onesthat shoves his religon down your throat. As rabid a sports fan as me, probably preety bummed the Gators beat the Sooners. Sometimes he's just a tad out of it.
More to come as I make more buddies, and as I find character similarities with those of you who are good friends.
Friends
Viewing 12 of 38 friends
Journal
The Elemental Storm
Copies of the Chapters of the book I'm writing with the help of some buddies take a look and leave comments to help me improve.
Multimedia