shulie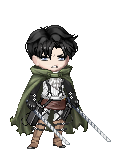 Details
Member Since

02/01/2005
---
Interests
About
Please stop bragging about your life thinking you hold any signifigance to this world. Its embarrasing.
This is how gaia is seeing us (lab rats). Are you still supporting gaia?
Journal
Spoilers
Epic foreshadowing

Signature
凸ಠ_ಠ凸

Gaiaonline, the place where every single feature is revolved around your money and nothing else.

0/10 no quality, would not recommend.