About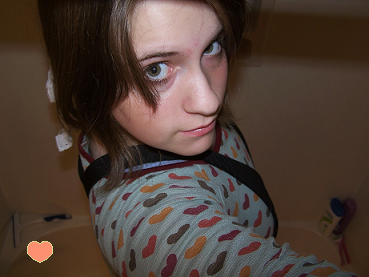 I am
13
years young.
birthdate
: March 4 -- Pisces ;D
location:
Louisiana
gender:
female
sexuality:
straight
originally started gaia:
Dec. 27, 2005
profile best viewed in:
internet explorer
Power up whores. ♥
-----
Beneath this facade lies a girl with many emotions. Happy being the main one followed closely by guilt. Do I ever hate myself? Rarely. Maybe once or twice but I don't understand the point of living life hating who you are. I don't try to be someone I'm not, although that's hard sometimes. Jealousy is something I dread for I am often jealous when I hate to be. I use the word 'I' way too much, it's rather sad.
-----
I love the bright happy aspects of life. The unicorns and blossoming forests of flowers. I dream often of such things and places. My dreams are frightening to most people since they are cleverly odd at times. I am different than most people you have probably ever met, although this is not distinct on gaia. I ride on electric scooters that go 5 mph. I'm a real speed racer o;
-----
Aside from other things I have currently failed to mention I love: bandaids, shoes, trees, cake,
sticky tack, coloring outside the lines, fog,
ladytron
&
goldfrapp, glue, lame jokes,
stegosaurs, candy, cats, jelly jars, taffy,
captain planet, pacman, & swinging at playgrounds.
-----
Furthermore I despise:shower curtains, spiders, spoiled food,
summer heat in LA, my teacher's freezing classroom,
cuts, when i fall down, country songs, smoke, things that smell bad,
, thorns, splinters, homophobes,
n00bs, and mean people :(
-----
I fear: micheal jackson, spiders, being shot, shots, STDS, cancer, and many other things.
-----
I'm a rather outgoing person but I really don't share my feelings with just anyone. I play many sports although I suck at most such as basketball, tennis, volleyball, softball... ect. I play flute in my junior high band. I also love drawing and tend to make freebie threads every once and a while, watch out ;D
I made this profile of mine so apparently I enjoy making graphics also x3x
I'm pretty much a nerd; never gotten anything but A's on my report cards. I'm real good at math most people say o;
I'm not fast to learn, but I easily understand. People often say I'm mature for my age, psssh. xD
-----
In real life I have virtually no sense of fashion. Considering I hate shopping for clothes since nothing fits right. Which reminds me, I'm going to attempt to lose some weight this New Year. Wish me luck o;
-----
I bet no one will even read all that, but that's okay =] For those of you who did, I guess you pretty much know a
little
about me xD There's so much I have failed to mention or that I have yet discovered. I hardly ever try to impress people, so don't expect me to try to impress you. I'm just . . . me =]
-----
&& Feel free to send a friends request, private message, or comment. I'm always open to meeting new people o; Addios ;D
--------------------------------------------

PROFILE CREDITS
brushes : Celestial-star.net
fonts : www.dafont.com
layout : (c) phuckmuffin

Friends
Viewing 12 of 50 friends
Multimedia
Signature


COMMENT MY PROFILE? D<
302/1000

Extraordinary Machine
OMG
My favorite saying is "Holy Smuckmuffins".
Almost your username.
;D