About
Well i guess im a normal teenager with 4 siblings. I have my twin sister, Diana, and my other twin brother, spencer. He's out triplet. And then we have our 17 year old brother, Emmet. Our parents are devorced. My dad lives about 3 blocks down from us. OUr 10 year old sister lives with him, and we baerly ever see them. Our mom has a boyfriend and he's a little young for her. And he's really mean to us. I fight with our mom the most, beside's Emmet. But he has a car and can go when he pleases.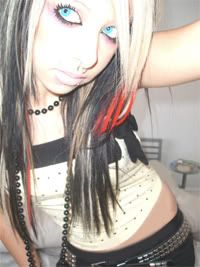 im 16 years old and my name is Bella and i dont take s**t from anybody..........
-Bella

This is my boyfriend....Jasper...
And that's my sista! She is the s**t.....She is the best person on this earth

this is are triplet Spencer, hes older than me by 2 whole min, ans older than my sister, by 5.

this is our dorky friend Mikey...he's that bass for our band

this a** is our brother emmet, 17,.................

and... ian the singer of our band