About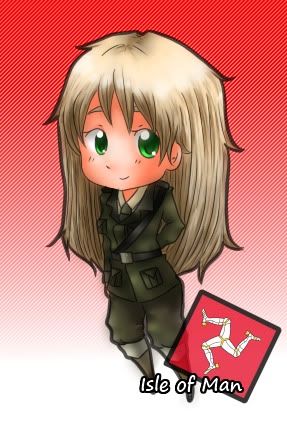 Name: Isle of Man
Human Name: Briony Le
Age: 22
Gender:Female
Bithday:Unown
Hair color: bleach blond
Eye color:Green
Height" "5'3"
Relationships:
England:
Mann met england when she and her country were very young, but never joined the united kingdom because she had seperated form both england and ireland years before and wanted to be recognized as a country. when mann was a young adolescene she deciced she wanted meet england (second time), and became a cabin boy and served under england who at the time was a pirate and was unaware that his loyal cabin boy was really a female. england eventually takes secured and greater control of mann and makes her a crown dependacy. when england hears that he is to meet the delgate of the isle that he made a crown dependacy and instantly expects the delgate to be a guy due to the country's name and soon is shocked to see that the isle's delgate is female. england decides to make mann's defences and foreign policies his responsibilites due to having a soft spot for her, and is very close to her, even though they are not related.
Scotland:Scotland took interest in mann and actually got norway to surrender mann to him, and made her part of his country,making her a servant of scotland's household. soon england took an interest in mann and so the two siblings fought over the ruling of the isle of man. england finally took mann from scotland and put it under the fedual overlordship of the crown of england.
Norway: established a settlement on mann with isle of man's permission but later surrendered Mann to scotland.