Hana_valentine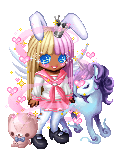 Details
Total Posts

17

Posts Per Day

0.00
Gender

Female

Birthday

09/07/1987
---
Interests
About
Konnichipuu!^-^
Name is hana... I'm from portugal but I love anything related to japan! x3
love to hang out with my friends and go to anime conventions.
love to watch anime and play games :3
love to cosplay
love gyaru style and para para <3
~
Fav movies:The nightmare before christmas,Final fantasy advent children, Animatrix, Paprika, Mononoke hime,Spirited away,Tekkon Kinkreet
Fav anime:Escaflowne,Fullmetal alchemist,Chobits,Wolf's rain, FLCL,Bleach,etc
Fav singers/bands
razz
lacebo, RHCP, SOAD,Muse,Korn,An cafe,Queens of the stone age,Incubus,Utada Hikaru,Ai otsuka,Malice mizer,Alice nine, Phantasmagoria,Moi dix mois,Dir en grey, yui, Lolita23Q,Due le quartz, L'arc~en~ciel, Maximum the hormone, Naitomea, D'espairsray, Gazette,12012,Ali project,Nishino Kana,Ayumi Hamazaki
Hobbies
biggrin
rawing,cosplay,anime
watching : Kashimashi girl meets girl
playing : Final fantasy IX
current obsession :Moguri
Mood: Nyaaappy!
biggrin
wanna b friends? :3
just add!
smile
thanks!
biggrin
D.A:http://lilb0nez.deviantart.com/
chuu~♥
Signature