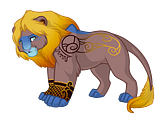 FireDog put the fires of the mummers at his back and moved towards the coolness of the distant shadows. He had his dances, his songs, and his laughs but it was good to get away from the hub-bub of the celebrations and let his senses rest. There was a lot to observe on this, the Mummer's ball. There were new faces and old familiar ones, giggling youngsters and proud, smiling elders. It was truly a colorful tapestry of life and song. New blood and old blood mingling with one another by the light of the mummer's fire.

Settling against a stone, the firey prince swept his seafoam eyes over the collected gathering. Still no females that had struck his fancy. He often entertained extending himself to their cousins, the Bahari, as a betrothed. Sadly, the nobility hadn't produced any daughters that he knew of. One more year... he had plenty of time. His mane hadn't even thickened out to its full length just yet.

At least he might strike up an interesting conversation. A good nugget of knowledge was as valuable as any golden trinket- at least to a gypsy prince.