Name: Lovelace
Gender: Female
Type: Flutter (summerwing), but may quest as a unicorn, if I can't get her via RLC or a special custom!
Build: Slim
Body: Pale lavender (if possible, would like some of her markings from the ref, but may not get??? my first time questing a phony sorry)
Eyes: Lavender
Hair: Pale blue with purple streaks, a bit wavy and fairly long (near hoof length)
Cutie Mark 8D: Lacy heart-shaped doilything with three blue hearts inside
*Accessory: Not necessary, but some flowers in her mane and tail would be nice.
Brief Character Description: A sweet mare with a love of love, Lovelace is the person who tries to hard to be kind and pleasant all the time. Her one true passion is making the most beautiful wedding dresses for couples looking to be wed. She will make lovely lacy dresses for anyone though, not just brides, though that's her favorite! Her bridal boutique features all sorts of dresses, as well as bridal accessories.

+ Ref pics where possible: Matope she's sorta based on!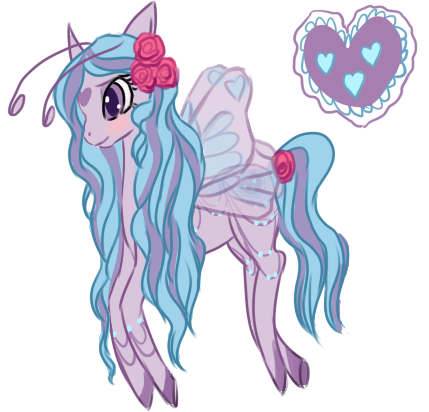 Got rid of the ponycreator and drew her myself! If the cutiemark needs to be simplified or whatever thats fine ♥



Fireflight: The current design is approved conditionally, which is to say only for special customs [laddered auction/RLC or where stated], due to Flutter, additional hairstreak (Flutter non-normative), Twice as Fancy markings (if like her Kimeti version, simplified), and Phonywear (flowers).