Quote: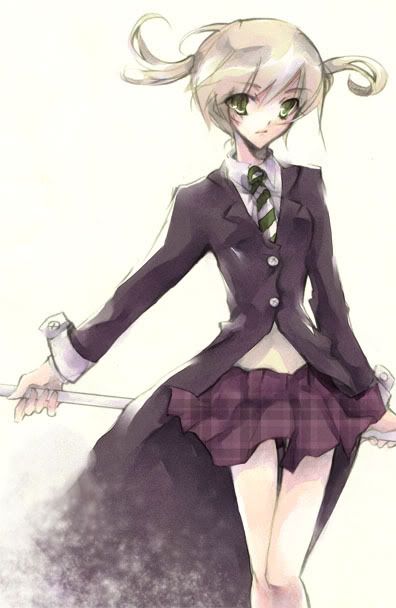 SECTION 1: BASIC INFO
Character Name:
Maka Albarn
Character Gender:
Female
Character Age:
Fourteen
Race:
Human
Occupation:
Meister
Alignment:
Protagonist
Description/Picture:
arrow
SECTION 2: ORIGINS
Canon:
Soul Eater
Canon Point:
A few weeks after Asura's defeat.
Means of Arrival:
Black☆Star pushed her and Soul into a portal by accident during training.
SECTION 3: REPERTOIRE
Class:
Scythe Wielder
Fighting Style:
Maka mostly fights with physical force, with or without Soul, but she also takes the time to come up with the best strategy.
Weapon(s):
Soul Eater
Skills/Magic:
Most of her abilities have been drained, but she is still able to use some of them.
Canon Abilities
Soul Perception -
This unique ability allows a person to 'perceive' the souls of living people. It has progressed to the point where she can distinguish between a normal, human soul and a Witch Soul. She can also identify a person she knows by only looking at their soul. Her Soul Perception is very powerful, being able to spread over a great distance and making her more efficient in combat as she can sense her enemy's presence.
Grigori Soul -
Maka has a Grigori Soul, a rare type of soul that only one in fifty million people possess. Grigori Souls have wings, which gives the person the ability to fly. Maka does this by creating wings on her partner, Soul, while he is in Weapon form.
Weapon Gene -
Though only accessible if she's unconscious and without Soul able to protect her, Maka has the capability to access her father's weapon blood as a sort of defense mechanism.
Soul Resonance -
Maka has three attacks she can use when she resonances with Soul. The stage of the attack depends on the threat level of her opponent. The three attacks are
With-Hunt Slash
,
Majin Hunt
, and
Kishin Hunt
.
xx
Witch Hunter
A Soul Resonance attack used by Maka. The move turns the blade of Soul's weapon form into a crescent moon shape. Normally the Witch Hunter is used to send a single wave attack along the ground towards the enemy but there are other variations of the move. The attack also has a purifying effect which makes it an effective move to use even against immortal opponents.
xx
Genie Hunter
An advanced version of Maka's Witch Hunter and is said to be "the witch hunt that surpasses the witch hunt". In place of the previous version's purifying effect, the Genie Hunter carries an "Demon-Repelling Wavelength" that erases evil. As the Witch Hunter is capable of harming an immortal, it is implied that the Genie Hunter is strong enough to kill one.
xx
Kishin Hunter
The most advanced Witch Hunter technique to appear in the series, it - like Genie Hunter - made use of the Anti-Demon Wavelength and was capable of (as the name implies) even injuring the Kishin Asura.
Mana Abilities
To come later.
SECTION 4: PERSONAL DETAILS
Personality:
Currently working on shortening, but the following is Maka's full personality.
As the daughter of the current Death Scythe and his former Meister, she has high expectations of herself. She idolizes her mother and, as a result, dislikes her disloyal father. Strangely enough, Maka has said that her favorite memory of her mother was when she asked Spirit for a divorce, the reason being that she admired her mother's strong will.

She likes reading books and doing puzzles. She frequently studies to remain as a model student. She is often seen with a book, and seems to always have one on her person so that she can use her Maka Chop at any time. She relies a lot on books to help her understand things, and is sometimes teased by Soul, who calls her a bookworm. She seems to prefer to stay in her house and read or study, emphasized by her lack of ability to play games such as basketball (despite her athleticism), as she does not know the rules. She states that she also writes poetry when she feels troubled. She is also stubborn, foolhardy, gloomy-natured and is quick to resort to violence, according to Soul, at least. Despite her mature and serious demeanor, she sometimes shows some child-like girlish traits (she is secretly fond of a song called, 'The Pon Pon Dance,' and calls her notebook the 'Maka Note'). Although usually polite to her seniors, she has a rather informal and sometimes even tomboyish way of speaking with her friends.

Maka is bright, cheerful, direct and confident, smart, in stark contrast to Soul, short-tempered, competitive and can sometimes let her emotions get the better of her and she sometimes forgets to take into consideration of other people's feelings, which sometimes results in conflict with her peers. She is enthusiastic, but sometimes takes her enthusiasm too far and can be bossy at times. However, she can admit to her mistakes and is not too proud to apologize. She is kind and caring to her friends, sometimes showing a gentler side to her usually assertive personality. Her willing to help is not limited to her friends, as she will stop to help out or encourage even strangers that she finds are having a hard time. She will not hesitate to do anything to help her friends, although she also will also not hesitate to put them in line if they do something inappropriate. She is shown to be easily annoyed. She is mostly known for her courage, and she is willing to throw herself at any enemy, no matter how strong they are, and she also retains a cool demeanor. She also has a sense of honor.

Although Maka is usually confident in herself, she can be extremely sensitive when someone scorns her abilities, and she often falls into a depression and questions on how weak she is. She admits that she is weaker than Death the Kid or Black☆Star. This may be the reason why she is very competitive, and is determine to prove herself to the others of her strength. Likewise, she is also easily flattered. Nevertheless, she still fights with all of her strength and furiously attacks anyone who hurts her friends.

In battle, her determination knows no bounds, and she faces an enemy no matter how strong they are. She also displays an almost frightening ferocity and drive in battle, not afraid of punching her opponents directly in the face. She even rushes at an enemy when she does not have a Weapon. Her temper is amplified in battle, and it is not unusual for her to shout and curse when something goes wrong. She also develops a tendency to mock her enemies. She used to prefer the logical approach to fights, wanting to have a proper plan of what to do in a battle, but she can become more reckless and start diving into battles without any plan, preferring to simply give it her all in the situation.

Maka also holds deep respect for her superiors like Stein, and usually never hesitates in obeying orders from the DWMA. She likes to consider herself as a model student, and abides by the rules of the Academy and displays great politeness to her superiors. She sometimes recites the DWMA rules from memory. However, deep down, she is shown to be torn at times when she is not sure whether to obey the DWMA or go her own way. However, after Soul persuades her to do what she wants to do for a change, Maka proves herself to be incredibly driven, up until the point she completely ignores rules and regulations. She later admits that although she tries to obey rules and orders to please others, in the end, she is not really that good at it and prefers going her own way.

When being told of her Grigori Soul, she gets a strong desire to become an 'angel-like' figure, and is irritated as Soul does not agree with this. She has a tendency to have zero-tolerance to some of Soul's undesirable behavior, usually hitting him with a Maka Chop if he does something perverted. She can be quite violent when needs arise. Overall, she seems to dislike men because of their disloyalty and perverted ways towards women. This dislike stems from her father's actions. A slightly darker side emerges from her personality when being with her father, leading to her exploiting her father's status as a Death Scythe or by deliberately making him feel uncomfortable or depressed.
Fave Food Type:
Pastas
Biography:
Maka Albarn - Soul Eater Wiki
Other Notes:
She has an out-of-battle technique called the Maka Chop, in which she hits someone over the head with the spine of a hard book. It's mostly used on men, namely Soul.
SECTION 5: QUOTES
To be filled in later on.
Victory -
Healthy:
"We did it, Soul!"
Low Health:
"That was a close one."
Injured Ally:
"I can't believe we pulled that off."
Low health -
With Allies:
"A little help, please?"
Alone:
"This isn't good."
Repeat battle (same enemy) -
Weak Enemy:
"Again? Don't these guys ever give up?"
Strong Enemy:
"Aw, man. Not again."
Downed -
Weak Enemy:
"This is embarrassing..."
Strong Enemy:
"Crap....Come on...!"
Revived - "Thanks a lot! I owe you one!"
Strong enemy -
Common:
"Stay focused!"
Boss:
"We can do this. We just have to be smart."
Weak enemy - "Alright. No problem."
Killing an enemy -
With Allies:
"Awesome!"
Alone:
"One down."
Fleeing - "Got to fall back for now."
Quote: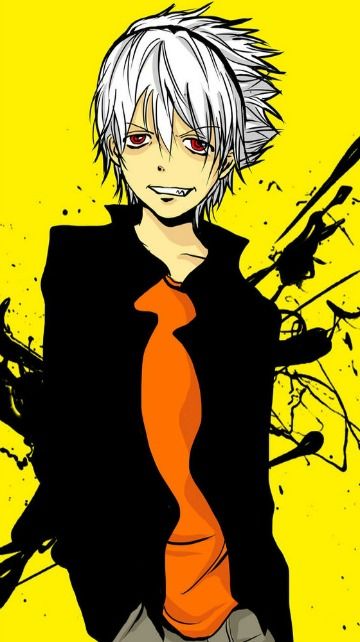 SECTION 1: BASIC INFO
Character Name:
Soul Eater Evans
Character Gender:
Male
Character Age:
Fourteen
Race:
Human
Occupation:
Weapon, Death Scythe
Alignment:
Protagonist
Description/Picture:
arrow
SECTION 2: ORIGINS
Canon:
Soul Eater
Canon Point:
A few weeks after Asura's defeat.
Means of Arrival:
Black☆Star pushed him and Maka into a portal by accident during training.
SECTION 3: REPERTOIRE
Class:
Weapon/Scythe
Fighting Style:
When out of his weapon form, Soul often uses shear strength in battle and and the scythe blades he can grow from his arms. When in weapon form, he's just a weapon and all his movements depend on Maka, though he often gives her advise during battle.
Weapon(s):
Scythe Blades
Skills/Magic:
Soul's abilities mostly depend on his weapon form, but he has hand-to-hand combat experience as well. Since he's a weapons, most of his abilities rely on Maka's aide.
Canon Abilities
Demon Weapon Form -
As a weapon Soul can transform into a long-handled scythe. Soul can also change a part of his body into his Weapon form; in his case, he can transform his entire arm into the blade of a scythe, or partially transform it from the elbow downwards to make it easier for fighting. The blade is shown to point in different directions when he transforms his arm just below the elbow. Since becoming a Death Scythe, Soul, rather like Spirit, can have his blade come out of his arm rather than having his entire arm transformed.
Form Manipulation -
This allows Soul and Maka to change the appearance of Soul's Weapon form. To what extent is not yet known but they have been seen to manipulate the length of the scythe blade in Soul's Weapon form.
Winged Form -
Due to Maka's Grigori Soul, she can form wings on Soul in his weapon form for quick evasive actions or retreats.
Mana Abilities
To come later.
SECTION 4: PERSONAL DETAILS
Personality:
Currently working on shortening, but the following is Soul's full personality.
Before Asura, Soul's attitude was laid-back and nonchalant, as he tries to mold himself to his expectations of how someone "cool" would act. He is almost the complete opposite of Maka, being reserved and aloof. He often expresses how he feels about some situations by either claiming that something is "cool" or "not cool". Being a cool guy, he prefers to use the direct approach or stupid approach, which most of the time fails. He has a unique love for eating souls that seems to not be shared by many of the other Weapons, drooling quite frequently when his next meal is nearby. He also seems to be a glutton towards food in general. He can sometimes become too driven by the thought of eating souls, which leads him to bicker with Maka or become impatient with her; but despite their squabbles, they are always able to maintain a solid friend-partner relationship. He is slightly immature by being headstrong, stubborn, apathetic to most things, and argumentative. Soul also has a strong weakness towards over-developed women, as he bursts into a nosebleed without fail every time he sees Blair naked, contradicting his so-called "cool" way of dealing with things. He is also a slacker that likes to find an easier way out of situations, such as cheating on tests.

However, one thing he has gained from all the years of being "cool" is that he is possibly one of the most loyal people one could possibly meet. He firmly believes that breaking promises and changing sides "isn't cool at all". Deep down, he is always looking out for his friends, and is even willing to sacrifice himself in order to protect his partner, Maka, showing his bravery and dedication. Despite his usual unenthusiastic appearance, he proves to be actually quite determined, and he also helps people get back on their feet when they are at a loss. He is also quick-thinking and cunning, being able to figure out a plan or a strategy rather quickly.

After the rise of Asura, however, Soul's personality greatly matures, and his stubborn and headstrong demeanor is replaced by a more cool-headed and serious one. He remains remarkably calm and composed no matter how dire the situation is and has impressively deep insight on various situations and people. He is often seen noticing important points no one else had thought of. This goes hand-in-hand with his acute sense and judgment, which is well-respected by his peers. He begins to show more awareness and understanding towards people, up until the point that he even lectures others when they are too stubborn to see some situations clearly. Still, he sometimes thinks it best to leave people to figure things out on their own. He does not waste his words and is often blunt and sometimes short with people, but what he says is mostly to the point. He is also not as trusting as others, showing immediate hostility to anyone who he considers as suspicious, and his deductions are mostly correct. Once he considers someone as an enemy, he sticks to this opinion until it is proven wrong. Since he is infected by the Black Blood, he runs the risk of being overcome by Madness. Because of Soul's constant grapple with the Black Blood and Little Demon inside his soul, he has a good degree of self-control, and he rarely gives in to his emotions. He has demonstrated extremely strong willpower, being able to hold onto both his and Maka's sanity whilst using the Black Blood against Crona. He still has a compassionate side, proving to be a good loyal friend to others, and is still willing to do anything he can to protect Maka.

He always tends to think things through before doing certain actions. Although this makes him more aware of things that some people cannot see, it sometimes hinders him as he often ends up doubting and hesitating at crucial moments, thereby making him become very indecisive when a decision has to be made quickly. Little Demon once mocked him, saying that the path he follows is only one that he has come across through process of elimination, thus he has no true conviction of his own, and is always running away. A flashback has shown him being even more indifferent about what he wants to do, but Soul states that things are different now, and that he has a conviction to become stronger for Maka. Her actions sometimes inspire him to follow his own heart, which results in him acting rather like Maka, putting himself in certain situations in a way that may seem reckless, but still courageous.

However, he seems to suffer from low self-esteem and is not that confident in himself. He is saddened of his inferiority to Autonomous weapons like Justin and Giriko and cringes at the thought of his brother, Wes, who is a superior musician. He also conflicts frequently with Little Demon in his soul. He keeps most of these problems to himself, and seems reluctant to share his problems with others, which sometimes makes him appear harsh and almost cold. He is mostly seen frowning or scowling. He is rather pessimistic, and is slightly aloof and detached from others, and he admits that he shares Crona's fear of bonding with people. He seems to dislike being popular, especially for rather shallow reasons, like his status as a Death Scythe, shown by his negative reaction to the many love letters and requests to become his partner that he receives. At the DWMA anniversary party, he is seen outside on the balcony by himself rather than with the others, and does not tell Maka of his Black Blood infection and his dreams of Little Demon, although this is mainly because he does not want to worry her. He still has a kind-hearted side, although he shows this side mostly to Maka.

Having come from a family of musicians, Soul also has a great talent for playing the piano. Maka, revealed that when they first met, he performed a dark song for her. Apart from this one act, however, he appears reluctant to play in front of other people because he "doesn't know what he's capable of". Soul's brother, Wes, is a famous violinist, but Soul wished to break free from his family's musical tradition, and upon discovering the blood of a Weapon coursed through his veins, he used it as an excuse to leave his past life. He still retains a deep love for music though, and seems to show enthusiasm in regards to it. Memories of his past still affect him emotionally, so much so that he prefers to forget them entirely. Nevertheless, having grown up in a rather upper-class household he retains many mannerly skills, such as ballroom dancing. He also appears to have an excellent taste for music, personally enjoying jazz, and has a distinctive eye for architecture; he claims Blair's pumpkin house to be "cool" and later states that he likes Gothic designs when he sees Santa Maria Novella Basilica.
Fave Food Type:
Pastas
Biography:
Soul Eater Evans - Soul Eater Wiki
Other Notes:
His bite is definitely worse than his bark. People should be more concerned on fighting with him than his bad attitude.
SECTION 5: QUOTES
To be filled in later on.
Victory -
Healthy:
"Hardly put up a fight!"
Low Health:
"It could be worse. Right?"
Injured Ally:
"You alright, buddy?"
Low health -
With Allies:
"Someone, help!"
Alone:
"Damn. I won't die here."
Repeat battle (same enemy) -
Weak Enemy:
"This is annoying. Let's just finish them off."
Strong Enemy:
"We beat them once, we can do it again."
Downed -
Weak Enemy:
"This isn't cool at all...."
Strong Enemy:
"Damn...."
Revived - "I'll repay you. Don't worry."
Strong enemy -
Common:
"Ha. This'll fun."
Boss:
"Alright! Bring it on!"
Weak enemy - "Piece of cake."
Killing an enemy -
With Allies:
"Did you all see that!?"
Alone:
"It's better with an audience."
Fleeing - "Guess I don't have a choice, huh?"
Quote:
SECTION 1: BASIC INFO
Character Name:
Maiku Yamayaki
Character Gender:
Male
Character Age:
Fourteen
Race:
Human
Occupation:
Persona-User, Student
Alignment:
Protagonist
Description/Picture:
arrow
SECTION 2: ORIGINS
Canon:
Persona 3
Canon Point:
After he left SEES, which was a few months before the game's start.
Means of Arrival:
He fell into a portal that was hidden by some bushes.
SECTION 3: REPERTOIRE
Class:
Persona-User, Twin Blade Swordsman
Fighting Style:
For the most part, Maiku is known to use his Persona's abilities during battle. However, he isn't afraid to use his swords when he has to.
Weapon(s):
Twin Blades,
Persona: Mother Moon
Skills/Magic:
Maiku himself was only born with the ability to summon his Persona. He has no special magic. However, he has a few self-taught sword techniques.
Canon Abilities
Twin Slash -
Slashes at an enemy twice with both swords, one being a vertical parallel slashes and the other being in an X-shape.
Sword Rain -
Jabs at an enemy several times before finishing off with an upward diagonal slice.
Sky Slice -
By impaling one blade into the ground, Maiku uses it to jump into the air and then slices down on an enemy from above.
Persona Summon: Mother Moon -
Uses the specialized SEES gun to summon his Persona for a short time to act at Maiku's will.
Mother Moon Canon Abilities
Deathbound -
Large slash damage to all enemies; 26% critical rate
Tempest Slash -
Large slash damage to one enemy; 2 hits
Mabufu -
Small ice damage to all enemies
Mabufula -
Moderate ice damage to all enemies
Mabufudyne -
Large ice damage to all enemies
Salvation -
Restores all HP to and removes all ailments from all allies
Mana Abilities
To come later.
SECTION 4: PERSONAL DETAILS
Personality:
Maiku is very quiet and distant. He's the kind of person that suffers in silence, wearing a mask to hide his pain. He tends to care for others more than himself, which has put him in danger several times before. His pessimism and tendency to harm himself makes it clear he suffers from depression, but he also has low self-esteem. Behind all this negativity, though, lies a very positive and happy boy; it's just hard to get to this part of him, and is mostly ever shown when he is sketching in his sketchbook.
Fave Food Type:
Italian food
Biography:
Maiku's life is complicated. As a young child, he was once very happy with tons of friends; just a normal child. Despite him being an albino American-born Japanese, he was raised in Japan, but knows fluent English. These aspects of his birth never bothered anyone. However, his life changed when he was ten. He had gotten sick, and his mother had to take him to the doctor's. They took a city bus, but things went horribly wrong. A semi's brakes had gone out, and this resulted in a horrible accident. Officially, no one died, but that's not quite right. Maiku did; his heart stopped beating for five minutes, but the paramedics managed to bring him back. Normally, someone would feel extremely blessed and lucky, but his suffering didn't end there.
His mother's brain was damaged in the area that runs parental instinct. Due to witnessing her son's death before she was taken to the hospital, her memory implanted that single image. Though Maiku can talk to his mother from behind closed doors or otherwise out of sight, if he's seen by her, it's the same as her seeing a demon using the body of her son, and she attacks him. He has a very isolated home life, and that doesn't help his school life. Maiku pushed his friends away with his sudden change in personality, and he became an outcast. Thankfully, though, he was found by SEES during the Dark Hour and taken in. For a short time, though.
He only stayed with them for about four months before he had to leave. His aunt and uncle had decided to take him in so that he wouldn't have to worry about his mother's behavior. Though he didn't want to go, he didn't have a choice. But, he still kept in touch with SEES and continued to train with his Persona in order to help later on with the Dark Hour. It was the only time he could feel like he could do some good, so being with SEES was always something he enjoyed.
Other Notes:
He has a scar on his back from the accident, and his eyes are a pale blue rather than red. Also, he's attracted to men instead of women.
SECTION 5: QUOTES
To be filled in later on.
Victory -
Healthy:
"Couldn't have done it without Mother Moon."
Low Health:
"At least I didn't die...."
Injured Ally:
"Hang in there....I'll help you!"
Low health -
With Allies:
"Don't worry about me, okay?"
Alone:
"I better do something fast...."
Repeat battle (same enemy) -
Weak Enemy:
"..."
Strong Enemy:
"At least it'll be a challenge...."
Downed -
Weak Enemy:
"...I'm pathetic."
Strong Enemy:
"Not again...."
Revived - "Thank you....I guess."
Strong enemy -
Common:
"We can do this."
Boss:
"Careful, everyone....Stay on your toes."
Weak enemy - "..."
Killing an enemy -
With Allies:
"You're welcome."
Alone:
"..."
Fleeing - "I can't do this. I have to leave."