SECTION 1: BASIC INFO


Character Name: Yuu Takahashi
Character Gender: Male
Character Age: 19
Race: La'Ri
Occupation: Traveler, Self-Proclaimed Liason
Alignment: Protagonist
Description/Picture: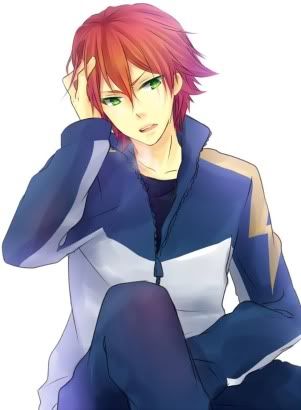 SECTION 2: ORIGINS


Canon: La'Rin (Original World)
Background on La'Rin: La'Rin (la-rune) is a planet that floats aimlessly in space. There is land and water, just like Sylvarant and Tethe'alla, but life cannot exist on the land because the atmosphere is too thin to support life. Instead, life exists beneath the sea, within a strong atmosphere created by the planets dieties (think of Summon Spirits and Centurions, only they're called Guardians and Sprites) to support life. There are several races on La'Rin including humans, elves, dwarves, were-creatures, wingfolk, ect. But, the most populated race are the La'Ri (la-ree), who are believed to be the direct decendants of the Guardians because of their immortality and slight control over the elements. Along with the La'Ri, there are the sacred creatures called Rin'Ians (rune-eons), which are said to be the offspring of the Sprites. There are eleven Guardians and Sprites that represent the eleven elements, and have temples.
Background on La'Ri: La'Ri are believed to be the direct desendants of the Guardians. Though that's not entirely true, they were given elemental control by the Guardians. La'Ri were the first race to exist on La'Rin, aside from the Rin'Ians. La'Ri immortality does not mean they live forever and can't be killed. It means they stop aging at a certain age passed seventeen. They can be killed and severely injured, but they outlive even the elves in lifespan if healthy. La'Ri can recover quickly from small wounds, but severe ones require additional aid. No one actually knows how old a La'Ri can get. Stones are made from the La'Ri's soul, and hold the La'Ri's immense magical power, making them desired in the other races. Much like exspheres, only the La'Ri's soul can control how much power is used and the La'Ri is fully aware of what is going on. So, technically, they really never die.
Background on Rin'Ians: Rin'Ians are created from the excess elemental energy given off by the Sprites, so they are the offspring of the sacred creatures. Rin'Ians can only be killed if they sustain injuries to the heart, or exposed to too much elemental energy that opposes their own. When they die, their energy condenses into a gem and the gem loses it's shine and shatters.
Canon Point: After his journey to tame the Rin'Ians
Means of Arrival: Came across of blue-green window-like portal and got too close, and was sucked in. He ended up in Sylvarant.



SECTION 3: REPERTOIRE


Class: Swordsman
Fighting Style: Depends on the situation. He can fight in close-range combat or long-range combat.
Weapon(s): A sword forged from La'Rin mythril
Skills/Magic:
Gale Tempest [[Spins his sword and creates a jagged, compact air current before tossing it at the enemy]]
Flame Thrust [[Thrusts his sword forward and shoots a blast of fire at the enemy]]
Water Whip [[A thin stream of water will form on the tip of his sword and he will lash at the enemy]]
Earth Blade [[His sword will be covered in stone and he will attack viciously]]
Protect [[Sends energy shields to protect his allies, reflecting all pain to himself]]
Spirit Shield [[His soul will expand from his body and solidify around him to protect against physical and magical attacks]]



SECTION 4: PERSONAL DETAILS


Personality: Yuu is kind young man who would never abandon someone in need. He loves to help others however he can, but knows when to stop and let things be. Though he his kind and unselfish, he has the pride of a prince to uphold, despite the fact that he doesn't want the pride.
Fave Food Type: Likes to try new things, but he can't resist fruits.
Biography: As a child, Yuu was always fascinated by the Rin'Ians, which are the sacred creatures of his world. He studied them, and even befriended some of them. When he entered his adolesence, Yuu decided to leave his duties as the La'Ri prince and embark on a journey to tame the Rin'Ians. The journey took nine full years of non-stop travel and fighting to complete his quest, but he succeeded. He became known as the Great Rin'Ian Tamer, and he is the only one within the La'Ri race to tame the Rin'Ians to this very day. The title never meant much, though. All Yuu wanted was to study the Rin'Ians and become friends with each of them--and that is exactly what he did. But, his life on La'Rin grew boring since his return to the palace. This new world offers the chance of a new adventure, and Yuu is looking forward to it.
Other Notes: Yuu is talented with instruments, especially the violin. He can also call his Rin'Ians to him, though he'd never use them in battle. The Rin'Ians are stored in travel packs that he carries on him. They are able to condense their energy into small gems and return to normal at will. Yuu also has an equal attraction to both genders, the same as all La'Ri. It's a survival adaption.



SECTION 5: QUOTES


Victory - "Go team! We won!"
Low health - "I won't fail here. My family is waiting for me."
Repeat battle (same enemy) - "Anyone else getting a sense of deja vu?"
Downed - "Sorry...."
Revived - "Thanks. I'll remember to return the favor."
Strong enemy - "We can do this. As long as we work together, we can win."
Weak enemy - "I'll handle this. Leave it to me."
Killing an enemy - "Score one for Yuu!"
Fleeing - "There's no shame in running sometimes."