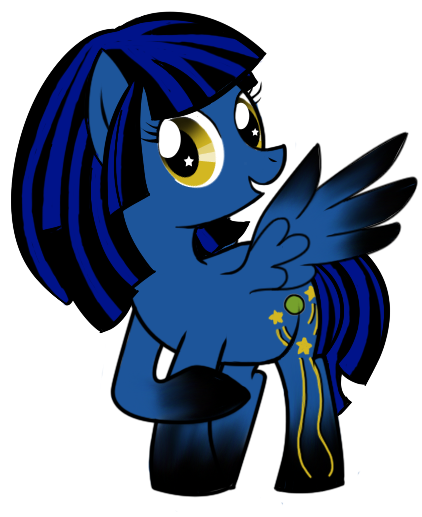 Name: Dancing Starfall
Gender: Female
Type: Pegasus (Gen 3 birthstone pony)
Body

#1d559a

with

#000000

gradients on legs
Eyes:

#d3b722


Hair:

#000000

with

#00138a

streaks
Cutie Mark 8D: Three stars, with shooting trails running down leg (twice-as-fancy)
Brief Character Description: Well meaning but... ditzy. Dancing Starfall clearly isn't always there. She had a tendency to space out, to dream of far-away lands and shooting stars... If you can coax her out of her imagination, then she is a sweet but shy pony who is willing to be friends with nearly anybody. Her passion is astronomy and she is often see up late at night stargazing.
+ Ref pics where possible: G3 Pony Custom | Symbol Close-Up

Dancing Starfall will be the concept I will try for in the rl slots. <3



Fireflight: I think you know this girlie is highly non-normative. lol The birthstone is possible [non-normative], Brush 'N' Grow & Twice-as-Fancy [both cutie-mark trail and body gradient] are also non-normative, so she's probably in the high range for non-normative. Before I stamp the quest, could you clarify her hair style please? Is it similar to the ref, just long to Brush & Grow extents, or something else altogether? If it's not exactly the same as the current image, it'd be great if you could post another reference. smile



Yes, I am aware XD I figure if I do end up trying for her in non-rl I will design another version with the non-normative stuff taken out, but for now I'd like to try for her as she is.

For clarification and after some thought, I've taken out brush and grow - her hair is now exactly the same as the pony template above. :> I figure the the birthstone and the twice-as-fancy are more than enough, aha. XD



Fireflight: The current design is approved conditionally, which is to say only for special customs [laddered auction/RLC or where stated], due to being a birthstone pony, and Twice as Fancy cutie mark & body markings.