Welcome To The A.G.A.'s 4th Birthday Celebration!

Adults Gaia Anonymous has brought us all together and given us friends and family we would probably have never otherwise met. And today is our day to celebrate our guild, our members, and all the good times we've had here. So with that let's get right on to the festivities!!
~~~~~~~~~~~~~~~~~~~~~~~~~~~~~~~~~~~~~~~~~~~~~~~~~~~~~~~~~~
T.H.A.T. (Treasure Hunt for AGA Trivia)

Our Contest has ended... And the winner is:
EXXOS

Make sure to congratulate him when you see him next
or leave him some love and congratulations on his profile!
~~~~~~~~~~~~~~~~~~~~~~~~~~~~~~~~~~~~~~~~~~~~~~~~~~~~~~~~~~
Winners and Answers

Question #1 - Who was the first member to post in 2009?
Answer - Exxos in Chatterbox
Winner - Exxos

Question #2 - Who was the original moderator put in charge of AGA's Chatterbox?
Answer - bebop21
Winner - Nochdguir

Question #3 - Where is the AGA Chat area located in Gaia Towns?
Answer - 3 Barton 003176
Winner - Exxos

Question #4 - In the "Kingdom of AGA" roleplay, what was Camwen's official title?
Answer - Keeper of Knowledge & Legends
Winner - Camwen

Question #5 - Who wrote this post and in what thread? "*A tall red-headed woman wanders into the bar her long hair blowing behind her. It seems a bit dark in the bar but her bright blue eyes pierce through the almost completely abandonded room... She quickly gathers herself and her eyes finally adjusting she makes her way to the bar.... finds herself a seat.. and knowing that the place is almost empty hopes the bar tender will spot her soon....*"
Answer - ErinsChaos in the Blue Moon Roleplay
Winner - Camwen

Question #6 - Which 2 AGA members have this Tattoo?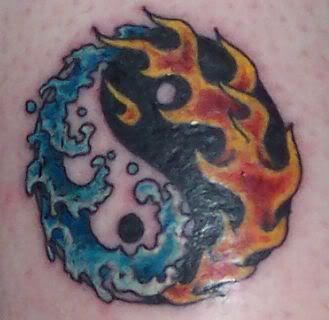 Answer - ErinsChaos & Sapphyre Enchantress
Winner - Exxos

Question #7 - Who was the very first person to use the guild's venting thread?
Answer - Rogue Angel Kiara
Winner - Exxos

Question #8 - What is the last rule written in red text in the Rules and Regs thread?
Answer - Do not post public quarrels within the guild
Winner - Kujujwa

Question #9 - What animal is on the very first front page for the AGA?
Answer -
Winner - None

Question #10 - According to the AGA, what is the ninth step of Character Creation for a roleplay?
Answer - Character Past. What defining moments have shaped this character's life? Where did they grow up? Why did they leave there if they did? Did something signifigant show them the way the world works? Are they unexperienced because their life wasn't very full of things to teach them? What are your character's roots?
Winner - Exxos

Question #11 - Which AGA member drew this?


Answer - LillianFair18
Winner - Exxos

Question #12 - Where is the resident karaoke machine of AGA located?
Answer - In the basement of the Golden Canteen.
Winner - Exxos

Question # 13 - What is the name of AGA's zOMG clan?
Answer - Infernal Fight Club
Winner - Lainauriel

Question # 14 Who was the first person to be interviewed in the AGA Report?
Answer -
Winner - N/a

Question # 15 - Which of the following does NOT have any significance in the AGA
A) Mallet of Doom, B) Evil Dustbunny Army, C) SPOOM!!, D) Evil Cookie, E) Grunnies with Sporks, F) Golden Speedie Fairy, G) Giant Veggie Chicken
Answer - E) Grunnies with Sporks
Winner - Lainauriel