Shinichiri
(?)Community Member
Posted: Sat, 03 Jun 2006 19:51:26 +0000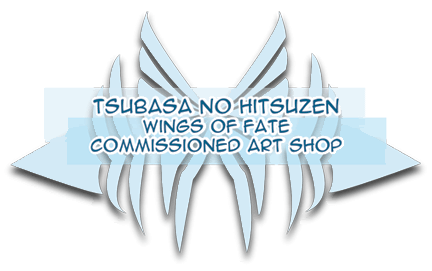 The Wings of Fate have taken flight...
Welcome to Tsubasa no Hitsuzen: Wings of Fate Commissioned Art Shop
Hey folks, take a look around. I hope you'll find something you want as I aim to please all customers!
Current Status: Online/
Offline: All commissions requested will be worked on tomorrow. Feel free to post requests here and PM them.
Directory:
1: Welcome and Rules
2: Announcements
3: Avatar Art
4: Fan Art
5: Original Art
6: Reserved
7: Specials
8: Affiliates
9: Own Banners
10: Wait List/Completed
11: Reserved
12: Reserved
Rules:
1: NO PMs. Please order here and according to order form. PM only if you think I haven't given your order any attention yet, you have not recieved a reply saying I will start work, or the notification above the directory says that I am OFFLINE!!
2: Follow Gaia TOS
3: Please start trade for payment! I will not start trades. Please make sure to say that it is payment for the commission.
Feel free to link to this shop and come forward about any requests you have that are not offered at this time and you would like to see.