[NPC] Moira
(?)Gaia Staff
Posted: Mon, 18 Jun 2007 19:17:03 +0000
Dust off your driving gloves, Gaians: Scion is sponsoring a new feature that puts you behind the wheel of your own customizable car!
Now you can do all kinds of cool stuff, like:
Buy your own Gaia car
Customize it with colors and accessories
Show it off at the Auto Show
Race against other Gaians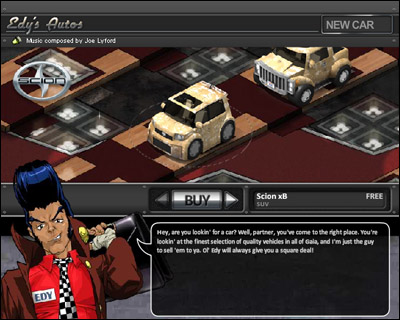 To get started, click the "
My Car
" section under the "My Gaia" link at the top of the page. Once you're there, you can buy some wheels from Edy's Autos. Edy's got three cars to choose from: the gas-guzzling Musculero, the sporty Possum, and the super-customizable Scion xB.
When you've picked your car, click the "
Buy Parts
" button to head over to Sam's
Body & Parts
, where you can pick up colors and accessories for your ride. When you've got the stuff you want, click the "Customize" button to deck out your car. The main window lets you can equip all the cool stuff you bought, or you can use the checkbox on the left to add your custom car to your signature.
Please note: After you buy items from Sam's, they will take about one minute to show up in your Customize screen.
Ready to show your wheels to the world? Click the "
Meet Up in Rally
" button on the My Car page (or select "Rally" under the Games link) to head to the Rally. Select your server, join a room, and pick your parking spot at the Auto Show or the 24/7 lot. While you're there, you can click on another Gaian's car to challenge them to a race! After you've challenged a friend, other Gaians can come along to watch the race and cheer you on.
Racing is pretty simple: click the red button to speed up, but watch out for obstacles! Cows, UFOs, and jump ramps can mess you up if you're not careful.
Well, what's stopping you? Hit the road!