iGlide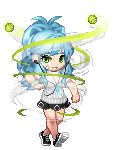 Details
Last Login

11/26/2015 1:31 pm

Member Since

05/30/2007
Gender

Female
---
Interests
Favorite Movies/Anime
Favorite TV Shows
Favorite Reads
Favorite Music/Bands
About
Sup?
Well as you can see, I'm an anime dork.
Don't expect me to like what you do.
Though if you're curious,
-Ouran Highschool Host Club
-D.Gray-man
-D.N Angel
-Fairy Tail
-Puella Madoka Magi Magica
-Jojo's Bizarre Adventure
-Highschool of the Dead
-G-Gundam
-Durarara!!
are to name some of my favourites.
Add me if you want, but actually talk to me before you do.
Friends
Viewing 12 of 259 friends
Multimedia
Signature

Bump Glow

[I tap every tank on each page I visit, won't you tap my tank? ]
Bump me multiple times if Im glowing, please. c:
~Looking For Invites~
Questing: Princess Discord