Snowblazer
(?)Community Member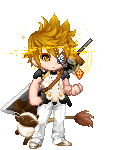 Posted: Wed, 10 Apr 2013 06:57:20 +0000
I am looking for an artist to help create a comic/manga.
The plot: Saoul Landers is the only survivor of a fatal car accident. His sisters soul has been taken by a demon. Aeron, a fallen Angel of Death, offers to help him save his sisters soul in return for his help.
There is no deadline on the collaboration, however I want us to keep in constant contact, no more than two weeks without a word. I am no doing this comic for money. If we get published by some miracle then any monetary gain will be split 50/50.
Please provide links to examples of your artwork.
Examples of my writing
Alyssa sat in the back of the classroom; she never liked talking to people her own age. I took the table next to her, "Hey, bout time I had a class with someone I know." I laid my head on a pile of books and smiled. The class was Mythology, every year learned different legends and myths along with the creatures. Alyssa took the class every year, writing down every detail.

"Well it is about time you took a class I have recommended." She smiled back. She grew up with Demetrius; I was the only one her age she would hang out with.

"Well." I thought for a second. "Ha, well you got me there."

"That is what I thought. Maybe next time you will listen to me."

I loved the way she talked; she never shorted anything or used slang. I had missed her the entire summer. No one had seen her during the three months of break; I even went to her house. I frowned when I noticed a rather long yet slim scar on her arm. She smiled but didn't answer my question. Ignoring my stares, her attention went to the teacher after he called for attendance.

After school I escorted Alyssa home in my new car I bought during the summer. We studied in the den away from her guardians' ashes; Alyssa was very superstitious and believed her guardians would look in from time to time. I thought that was absurd. Once you die, you're dead. There is no coming, not even for a visit.

"So, what should we study first?" Alyssa asked

"I don't feel like studying." I sat across from her, resting my chin on the table.

"Then what do you wish to do?"

"Where were you all summer?" I had been dying to ask that question all day.

She smiled, "Nowhere in particular." Then brushed a strand of hair behind her ear. It looked a little lighter than normal.

"Did you dye your hair?"

"No, of course not. How about math?" her attempt to change the subject failed.

"Seriously, where did you go?" I sat up and crossed my arms. I was getting irritated.

"I went to a land far away from here, yet closer than you think." Always cryptic words, I hated when she did that.

A feast lay before him on a large table, turkey, beef roast, broiled chicken and much more he never even seen cooked before. All looked and smelled divine. He grabbed a turkey drumstick and sunk his teeth deep into the moist flavorful meat. Juices ran between his lips meeting as his chin and dripping onto the table. He closed his eyes savoring the taste then ripped a chunk off and slowly chewed. He opened his eyes when the taste changed drastically; he spat out the foul meat and stared in horror. The once juicy, plump, white meat had turned grey and green with maggots thrashing about. A chicken appeared on the table; it ruffled its feather and slowly walked across the table. A familiar face grabbed the chicken by the neck and laid it on his plate. She grabbed a large cleaver and swung it down over the neck of the defenseless bird. Blood splattered across his face once the vein was severed. She held up the dead bird, "Chicken Orad?" He bolted back in terror, his scream preceding him out of the dream realm.