Miss Devichi
(?)Community Member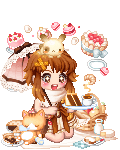 Posted: Wed, 18 Jan 2012 01:20:47 +0000
Welcome, welcome.
I need money and I want something to draw so… another shop! I just got my tablet, like, two weeks ago, so I'm more or less still improving. And if you claim any of my work as your own, I'll stab you with a spoon. Just kidding, but don't do it.
Slowly updating my Samples!
I'm willing to try and draw anything, but if it involve real life people...
You've been warned!
I'm offering these styles:


150k(non-coloured)**/250k(coloured)/ Look at bottom for item payments.
Updated Samples o7/o1/2012.


Chibi

***
Non-coloured:
Coloured:x x x



Adventure Time

***
Non-coloured: x
Coloured:
(Newer) x x x
(Older)x x




Cartoon

*NEW*
Coloured: x x x

---


I can't stand drawing the same style over and over again so I made...
Other styles:



Skinnies

:
They're very versatile, so anyone should be okay. Depending on what is drawn, the arms and legs may be different (double line, single line). For the colour, I pick the most neutral colour off of what is drawn for the outline. Then I pick 2-3 lighter colours. The price is based on how difficult the reference is.
Unlike the other styles, I will not show a "is this okay" sketch. Mostly because I finished these real fast.
x x x x
Single: 30-60k



Headshots

:
x x (90k)



Full Body

:
Black/White: x (250k)
You can choose to have the eyes coloured or not.
---
Order Form:


[quote="Miss Devichi"][/quote]
[b]Username:[/b]
[b]Style:[/b]
[b]Reference(s):[/b]
[b]Offer:[/b]
[b]Extra Information[/b]
If for some reason, you don't want to give me a tektek, as long as your equips is opened (it'll just be harder for me). But if you change your avatar before I finish, I am allowed to cancel your order. Don't be rude! I don't always save your avatar onto my canvas (ie. If I'm only sketching to see if the pose you asked for/I'm thinkin' of works but then think it's good enough and change my mind) and I'm not going to remember what you're wearing.
**For non-coloured, tell me what colour to draw in. If you don't tell me, it'll either be in a random colour or Dark Gray.
***I also do minor animations. Just tell me what you might want and we'll see what we can work out.

Backgrounds: Please add to Extra Info on the form.
Transparent background with request. (Free)

For one Chibi

:

For Couple (or 2 Single Chibis):




Also taking

Runic Challenge

s as payment.


x2 for one Chibi.


x4 for a Chibi Couple.
Goals:
x.

Get Chic Geek


x.

Get four January 2012 Donation Letters (4/4)


x.

Get four February 2012 Donation Letters (4/4)


x.

Get four March 2012 Donation Letters (4/4)


x.

Get four April 2012 Donation Letters (4/4)


x.

Get four May 2012 Donation Letters (4/4)


x. Get four June 2012 Donation Letters (0/4)
x. Get four July 2012 Donation Letters (0/4)
x. Get four Zodiacal (4/4) (any generation... I love these things.)
x. Get two Compass of Seidh (2/2)
x.

Get Sainte Ciel: Storge (1/1)


x. Get two Secret Retreat (0/2), two Sigrdrifa's Prayer (1/2), two Rosamund's Revenge (1/2).
x. Get one Dancer on the River (0/1), one Shilay-Lee the Pooka (0/1), one Seelie Order (0/1).
x. Get Kanoko's Nightmares
x. One of each S-Pop Club. (0/3)
x. Adventure Time stuff... Must get. :Q
x. Get Blue Belle, Copper Belle, Golden Belle.
Funds: ---k
Questing:


[
]


Oisin's Blessing is my last quest of the year. SO HELP! Dx

Month's Gold Earned for Quest/Total at Month's End (month)
1.5mil/1.5mil(Jan)//2.5mil/4mil(Feb)//2.4mil/6.4mil(Mar)//3.5mil/9.9(April)//-- Too lazy to keep track.

o4/o6/12: Bought SDPlus #099 Kanoko
o7/o1/12: Bought Kanoko's Nightmare

Funds: 30k//a lot
All gold now goes towards Questing.