Razumi Yazura
(?)Site Moderator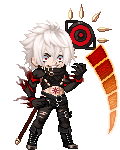 Posted: Sat, 05 May 2012 20:58:20 +0000
(

"Raz, why isn't the banner silver?"

"I LIKE IT THIS WAY."

)
Gold awarded so far:
11,471,000 gold
Items awarded so far:
Welcome and prepare your senses for a
sensual
experience...wait! Don't leave! I promise to be good!
Alright. It's no surprise to anyone that I love art. My friends know. Oh, man, they'd tie me up and keep me away from buying commission art if they could. It's just that I enjoy seeing how other people interpret my characters. I can't help myself.
This is an OC contest, but there are avatars thrown in for outfit purposes.
The characters in this contest are in stories I've written and I am also working on a webcomic, which holds the same name to this contest. The stories have not been posted anywhere. I'm updating and rewriting most of them and I'm not sure if I will ever post them anywhere online. However, I'm hoping to start posting the comic some time this year.
I hope you all will enjoy your time here with me. I wish all of you the best of luck.
✦ Contest Deadline is
March 18th, 2013, 11:59pm PST
✦
Or March 19th, 2013, 12:00am PST, for clarity.
(Why this date? March 18th is my birthday and I want to put significance to the end date of the contest.)
Announcements
April 6th, 2013
I'm going to edit this list as I go. I will distribute prizes once everything has been awarded.


April 5th, 2013
To anyone who has provided and entry or a WIP, please go here.

I'll quote summon later.
March 24th, 2013
We're confirmed a date. The awards ceremony will be on April 5th, 9pm PST. If that time is a problem for anyone, let me know. I've added a countdown timer for people to refer to.
March 23rd, 2013
Currently waiting on feedback from my judges. I'll decide the date for the award ceremony as soon as I can. I don't want to rush any of my judges.
March 19th, 2013
The contest is now over. Please allow us time to judge the entries. I'll announce the date of the award ceremony as soon as I can.

I wish everyone good luck and hope to see everyone for the next contest. There will be more characters for the next one and I promise to be better/quicker with my refs. The comic will be released before I dare post the next contest. I need to stop being a big ball of fail about that.
March 18th, 2013
Last day for entries. Remember to use the countdown timer if you want to know the exact time you have left.

Good luck to everyone!
March 15th, 2013
Only a few days left in the contest. I may not be online for most of the weekend to celebrate my birthday. Just giving warning in case people need me. I'll try to answer questions as soon as I can, though.
March 10th, 2013
About a week left in the contest. Get your entries in as soon as possible. If you have any questions, don't be afraid to ask.
March 1st, 2013
Congrats to everyone who won a prize for February.

Oh, man. We're almost there. I'm almost 25 years old. I don't feel my age.
February 20th, 2013
Work is starting to get busy again IRL. I'll try to be online as much as possible, though. Comic will have to be a bit delayed. Beginning of March at the latest.

At the end of the month, I'll throw in RIG singles to the monthly contest.
February 11th, 2013


Judging by the poll, I'm not going to change anything to the deadline. I apologize to those who wanted it changed.

I will have a second contest after this one once I have more prizes gathered. I'll try to make the deadline sometime in Summer or September for that one. I have no estimated time for release for the next contest, though. I want the prize pool to be similar to this one, so item gathering will take some time. If the contest duration become longer than a year, I'll try to add more prizes as I go along like I did with this one to add to the value.
February 7th, 2013
To clarify the poll, I would basically be giving users an extra week to finish their entries as long as they have shown a WIP. From there, users who have not shown a WIP will not be able to enter when the WIP deadline has been met. From there, the final deadline would be the end of the 25th.

I don't like changing dates to deadlines, but I understand that this is a strange time of the year to end a contest for many people. I might not change anything, but I want to see how much demand there is for a WIP deadline.
February 6th, 2013
Unless I become very busy IRL, I'm aiming to release my comic in two weeks from now. I foresee plenty of sleepless nights.

I've also added a new poll. Feel free to give me feedback on that.
February 1st, 2013
Congrats to those who won prizes last month! Man. I've given out a bit over 10 mill so far. Good luck to everyone. Less than 2 months left for the overall contest.

Since February is the last full month (well...as full as February can be...), I'll be giving out CI bundles for the RNG roll. However, I'll only do this if there's participation. I would say at least 3 entrants. I'll add more bundles if there much more.
January 30th, 2013
Gathered all the entries and placed them into one album for people to see everything in one spot. I'll still be updating the separate character albums. This is just another option for users to look through.
January 25th, 2013
Since I'm aware that couple drawings are often harder to do, I've increased the values of "Let Me Cherish You" and "It's A Love Triangle In Here." They're roughly the same value as overall fifth place now, so I may need to rebalance that category. At the same time, "fifth place" is for a wider range of variety in entries, so it may not be necessary.

"Let Me Cherish You" now has a full Sainte Ciel set in it. Definitely won't be adding more with how stacked that category is now.
January 17th, 2013
Side contest results can be seen here. Congrats to all the winners.

I've noticed that some refs have disappeared from a few of my character profiles as an image limit was added when the site updated their layout. I'll fix that up as soon as possible. If you need a reference that has disappeared and I have not readded it yet, feel free to ask in the thread and I can provide them directly.
January 14th, 2013
Side contest is now closed. Thank you to everyone who entered! Please allow us a few days to judge the entries.

If there is anyone who didn't get a chance to finish your entry for the side contest, you can still submit it. It will still count for the main contest.

I might do a smaller side contest that's Valentine's related, but I'm undecided at the moment. We'll see. I'm a sucker for romantic art, so I might if I can figure out some prizes for it.
January 9th, 2013
Side contest deadline ends in less than a week. Get your entries in as soon as possible. If anyone has any last minute questions, don't be afraid to ask.

Here's a countdown timer for those who would like a visual as to how much time is left on the side contest.
January 7th, 2013
I've checked the MP and recalucalted any prize categories that needed updating.

There are currently no entries for the side contest and not very many contestants overall, I've noticed. That makes me worry, but don't worry. I'm stubborn and would never extend or cancel the contest.
January 5th, 2013
Sorry that I've been a bit useless lately. Got sick twice on December and I've just finally recovered for the most part. Still raiding the tissue boxes, but that not so bad.

Looking over the side characters I have. I know that I won't be able to release all of the groups, so I'm going over the key characters from each group. I may not release the Moonspear Council. Nysticus is the central character from that group, but I may release Silvios since he is Atticus' father. For now, characters from the Radiant Crusade seem more practical to release since there's more female characters and the group. Sanriel, Cesium, and Razekiel also overlap with them. People from Lindsway City are also an option so that there's more characters for Atticus to interact with in a "normal" setting.

There's way more groups on my profile list since I have a lot of characters, but I'll leave those for when I start posting my comic online. It's just that I'm really sluggish when it comes to drawing at the moment and I feel bad about that.
January 1st, 2013
SC = Side Contest. Just noting this. I have limited characters for the title, so I had to call it that...

it makes me think of StarCraft...



Happy New Year. Congrats to those who won prizes from last December's monthly contests.
December 31st, 2012
Two more weeks on the side contest. New entries yet, so grab your chance for some CI bundles.

Happy New Year, guys. For any monthly contests, I'll take care of them later tomorrow. I usually deal with them at midnight, but since it's New Year's Eve, I'll be out with family.
December 22nd, 2012
Charahub made some updates to their website layout. I'll be fixing up and updating the formatting to the character profiles.
December 15th, 2012
I was looking at some GW2 screenshots and I saw this. It's a pretty old screenshot, but if anyone wants to draw Chimera Raz similar to this, I'm all for it. I also can take screenshots of the other characters since they're pretty close to how I want the characters to look. (As much as I can, at least. Had to make due with Atticus.)
December 7th, 2012
I'm kind of sick at the moment, but I'll try to be online as much as possible. Modmas 2012 is also going on, so I am drawing freebies for that. Only one per person, though. I'm going to try to draw as many users as possible. I have 19 people to draw at the moment.
December 1st, 2012
Congrats to the users who won prizes for November. Feels like the month just zoomed by.
November 28th, 2012
I know that this first page of the thread is huge, so I've linked the each section at the bottom of the this post. Only this one, though.
November 27th, 2012
I've updated the estimated values of the categories as much as I could after the Black Friday Sale. Things didn't change very much, thankfully.

I've added a magical girl category. I'm going to add one final item category after this. From there, anything else will be small prizes based on participation.
November 25th, 2012
I've added a Loathing Style to the "I Just Love to Hate You" prize category. Estimated value may vary still until the end of Black Friday on Gaia.
November 24th, 2012
I'll be double checking the estimated values for all of the prizes once Black Friday is over. I'm certain that a few categories will change significantly. I'll check what I may need to adjust and compensate for. From what I see, mainly Jet's value has dropped so far.
November 10th, 2012
Alright. As I type this, it's around 6:30am. I'm going to pass out now, but I finally added the side contest. There's going to be a lot of CI bundles. If all goes well, I might add clothing bundles as well.

I'm going to focus on drawing from here. Let me know if you guys need a visual for something and then I'll try to finish artwork as soon as I can for it.
November 7th, 2012
I've added a bit more information under the relationships post and added some information in Jethro's profile. I might edit it if it's confusing. I've been posting and piecing things together in the middle of the night.

Side contest is almost ready to post up. I might post it later today or on Thursday. There will be roughly 6 prize places. I might add more. If there are not enough entrants, any leftover prizes will be kept to the side to give away in the main part of the contest.
November 1st, 2012
Congrats to October's winners. Feels like the month went by pretty fast.

I have work today, but I'll be sure to make updates ready for next week. This includes the side contest for November/December. It will be a bit larger than the summer side contest since I had missed September/October due to being busy IRL.
October 22nd, 2012
I'm feeling better and I should have free time to spend on the contest again. The game I was working on will be released on the 23rd, so now I'm waiting on when I'm assigned to another game.

I'm working out a list of things I need to do while I still have time. Hoping to make updates sometime this week. If all goes well, I may release some side characters soon.
October 12th, 2012
I've gotten even more sick recently, so I'm pretty useless at the moment. I feel pretty horrible. I'm going to be resting during the weekend and wn't be doing overtime at work. It's becoming harder to function and I need the rest. I'll try to be online in case people have further questions concerning the contest, but I will mostly be in bed during the weekend.
October 8th, 2012
I got sick, so I'm mostly resting in bed. It's Thanksgiving today, so I have a day off, thankfully.

I'm still planning things out. Just burnt out from all the work, I guess. Augh. I'm sorry sorry that I'm slow, guys...

Edit: 9:33pm PST
Added higher value prizes. I'm still going to add more items with the angelic minis. I just need to see what else I'm willing to wean myself from. I've had these older items for so long, so it's kind of hard for me to let go. I value artwork more than items these days, though.
October 7th, 2012
I'll be updating the prizes when I'm off work. I'm going to add some old MC items and EIs to the prize pool. No items will be taken away, but some categories will be reorganized. I will be updating banners to get a bit closer to the value of the contest.

I'll also be adding Nysticus and Jethro's profile informations. Sorry for the delay on those two. Same with Cesium and Atticus' post images. Once I finish these up, I'll work on profiles for the side characters. I don't have a time frame for when these are completed since I work every day IRL, though.
October 4th, 2012
It looks like the "Treat them as separate prizes, but add smaller items with them to continue the contest's multi-item prize pattern." option on the poll is winning. I'll see what I can organize with the 2003 items. I will also be scaling the gold on most of the prizes.

This will not be in effect right away since I'm busy IRL. I'm just letting you guys know what I have in store for the future.
October 1st, 2012
Congrats to LordPocky and sachara for September's monthly contests! Wow. September went by quickly.

I will be closing the poll by the end of this week. From there, I will put up a new poll and will narrow down to fewer poll options based on the votes of the current poll. I will make the final decision later this month or in November.
September 26th, 2012
New poll. I've been thinking about whether I should do this in relation to the contest's deadline and everything else. I added an "Extend the contest" option I'm serious when I say that I'm thinking about adding a halo, but I'm still unsure due to its sentimental value. It also really depends on how I do with my character refs since it wouldn't be fair to you guys if I there isn't enough time to finish pieces because of that.

Also, I'm going to try and release more female characters and pets next month. Just that my hours at work are consuming most of my time. On my lunch break as I type this.
September 24th, 2012
My work hours for last week was 69.25. I'm doing overtime again this week.

Guys, send help...or some form of caffeinated beverage.
September 22nd, 2012
Judging by the poll, it looks like I should add more of my female characters. One character I want to add is Arabelle "Falcon" Riviera. I wanted to release her in August along with Jezel Castillon and the rest of the Radiant Crusade, but I have been busy. As you can see, Falcon's ref is a very old train sketch when I was first designing her back in 2010. She's another favourite of mine, so hopefully I'll have some time to redraw her and provide information soon.
September 21st, 2012
Going to have some stuff posted up soon to help illustrate character relationships. My girlfriend is helping me with that since I've been doing 12-14 hour shifts everyday and then weekend shifts.
September 18th, 2012
Been having 9am-9pm shifts every work day recently. (It's 7:52pm as I type this at work.) Going to make the Autumn side contest end a bit later than I anticipated since I haven't been able to finish typing up all its information. Just letting you guys know.
September 15th, 2012
Sorry that there is a delay in posting details and rules for the Autumn contest. I have a lot of overtime at work. Worked from 9am-9pm yesterday. I also have Saturday shift again, so it will have to wait until I get home or Sunday.

I'm going to be adding a few more categories, so keep a look out.
September 11th, 2012
I sent out all the prizes for the Summer contest. Congrats to the people who entered. If anyone else would like to see the result, check the side contest post.

Setting up the Autumn contest right now. It will be up either tonight or tomorrow. Its set up will be similar to the summer contest, but I'm adding a few rules and it will have a wider range of variety.
September 11th, 2012
I have the winners chosen for the summer contest and have a solution to how I am going to distribute the prizes since only three people entered. I will be announcing the winners once I get home from work.

Also, I just added SDPlus Bibbles and SDPlus Cookie Boots to the "Wild Card" category. There will now be three RNG rolls for the overall entry count, so everyone has a bit more chance to win an item regardless of skill. I might add more in the future based on how many entries are submitted to the contest.
September 10th, 2012
I'm going to judge the summer entries during this week. I'm also going to set up the Autumn side contest as well.

Going to be straight with you guys. Finishing refs is going to be tough for me until the game I'm working on is released. I'll be getting Saturday overtime, so I'll only have one day off in the week all of this month. I'm organizing some help from a friend of mine for artwork, so we'll see how this goes.
September 9th, 2012
Here's a deadline countdown for the summer side contest just in case people want a visual of the exact time they have left. Just in case there's people out there working on something last minute.
September 7th, 2012
Summer side contest is going to end soon, so get your entries in as soon as possible. I know that I say this a lot, but if you have any questions about the characters, let me know.

I realize that adding the side contest prizes over to the next side contest if there are not enough entries may be overkill. I'll think over what I am going to do with the leftover prizes if there are any. I may just leave them to the side and award them at a later date.
September 1st, 2012
I'm going to be away this long weekend. My parents want to go out to Whistler and I didn't know until the very last minute. I'm not sure when we'll be back. Just letting you guys know.
August 31st, 2012
I've added numbers beneath the prize categories to take note of potential entries that fit for that category. Some entries overlap different categories, so the numbers will add up to more than the entries that have been submitted.

I didn't add numbers to the Grand Prize category since all entries are eligible for that section.
August 30th, 2012
Looks like no entries for August's monthly WIP contest unless someone submits a WIP or entry by today or tomorrow. That's probably my fault. I'm sorry that I've been so busy IRL. There's a lot going on at work.

Even though the summer side contest is still running until the 10th, I am setting up the autumn side contest for September and October. It will be posted on September 1st.

I apologize if anyone is having problems with character profiles. I've been re-writing and reformatting the character profiles for the versions I'm posting on Gaia. I've added a few more details like weapons of choice, instruments the characters play, etc.
August 27th, 2012
Alright. Now that conventions are out of the way, you guys can poke at me as much as you'd like. Other than work, I shouldn't have too many distractions now other than things I need to finish in the voice acting group I'm in.

I'm setting up a schedule for myself to get some things finished. I may even do some weekend livestreams for fun, if anyone is interested.

Don't forget to get your entries in for the summer contest. If there are left over prizes, I will carry them over for the autumn contest. It will just mean that autumn will have more prizes. I won't be taking anything away.
August 17th, 2012
I have to remind myself that trying to finish anything for the contest during the weekend doesn't work since I either get overtime or feel too tired to do anything when I get home. Sorry, guys. emotion_0A0 Weekend after I get off work today, so I'll try to finish as much as I can with profiles and more character refs.

Going to a con on the 25th and 26th. I guess I can post pictures up after. You can stare in horror at my goofy shenanigans.
August 13th, 2012
It seems that Charahub is back at the moment, but I'm still going to mirror information as a back-up. I'll finish that up as soon I get home from work.

It's the middle of the month, guys. Get those summer and monthly WIPs or entries in while you still can! I'd be happy to give feedback if you require any.

Also, I guess I'll need to make up a few summer avatars for the characters. I know that some users prefer seeing outfits rather than making things up, so I'll get to that as soon as I can.
August 11th, 2012
Gah. Looks like Charahub is down at the moment. I'm finishing some voice acting stuff for a group I'm in, but I'll go mirror character information once I'm done. If anyone wants to know about a specific character and I haven't mirrored the information yet, post in the thread or send me a PM.
August 10th, 2012
I realize that I placed 2013 instead of 2012 for the summer contest deadline. I fixed that. Sorry about that, guys. Also, once the summer contest is over, I'll put up an autumn contest and then a winter contest. Much like the summer contest, each one will go on for 2 months.

Still rather busy with work. Actually at work right now. (It's around 9:08am PST as I type this.) Working out some things with a few friends to get a few more refs to post up.
August 3rd, 2012
I'm going to be away for the long weekend. If anyone makes submissions or has any questions, I'll either answer if I can find internet or I'll be back on late Monday or Tuesday.
August 1st, 2012
Man. August already. Congrats to the winners who won July's monthly contest. I look forward to seeing what happens this month. Looks like I've almost given 4 million gold from side contests so far.

This is going to be a rather busy month for me. I still want to release side characters sometime this month, so I'm sorry if I'm not online even after work hours. Working on finishing touches to two costumes for a con that will be around the 24-26th of this month as well.

Please don't be afraid to ask any questions, though. I will get back to you as soon as I can.
July 24th, 2012
Updated the BG monthly contest list. Looks like this month's prize will be something over 500k. Good luck to everyone participating.

It looks like my current project at work runs all the way through September. It's a whole lot more involved compared to past projects, so I don't know how much I will be online once things become busier. I'll be online as much as I possibly can, but looks like my webcomic will be pushed a bit until I can figure out a way to juggle it with work, sleep...and eating. lawl
July 19th, 2012
There appears to be uploading issues with charahub at the moment, so here's a clean version of Cesium's erinyes/harpy form. It's artistic nudity, but I removed the nipples just a case. Just a warning. I'll place the ref in the proper place once I have time to colour it. A friend of mine drew it.

Still quite busy IRL. After this week, I'll be put on a 6 week project. I still want to release my webcomic this year and finish more character refs, so I might not be seen online other than to answer questions and check entries.

I will update the BG monthly contest list during the weekend.
July 13th, 2012
I changed the summer contest's deadline to September 10th since I realize that people would probably like to do last minute touches during the weekend. Please allow me time to judge the entries after depending on how busy I am in September.
July 12th, 2012
All right...I was wrong. I wasn't put on just one project these next following weeks. I was put on two. My time online will be very questionable since I'm doing plenty of overtime during the week as well as the weekend.

I pushed myself to finish the summer contest post. I'm sorry that it took so long for me to post it up. I've been rather busy. Its deadline will be September 8th. Go check it out. I might add more prizes if something catches my eye. Also, any entries submitted to this still count for the main contest.
July 4th, 2012
I'll monitor Charahub's downtime during the next few days. The site appears to be having trouble.

All right...all right. My brain is on sleep mode whenever I get home. I'll add the summer contest during the weekend. I just can't focus at the moment. Sorry, guys.

After this week, I'm going to be put on another project for another two weeks at work. I'm having a friend help me with drawing some references for this contest since I haven't had the time to sketch more things out. Hopefully that clears some things up.
July 3rd, 2012
Okay. I'm slow. I'll try to edit the post for the summer side contest when I get home from work.

I've decided that I'll give four RIG bundles for this contest. Two of July's and two of August's. I'll grab them once they're revealed/available. However, I also want to give other stuff, so I'll see what other prizes I can muster up.
July 1st, 2012
All the prizes for June have been sent out. Congrats to everyone who received a prize.

I scaled up the art monthly contest up a bit. I may scale it up again in a few months. I will also be releasing a summer side contest. I'll post it up either later today or tomorrow. I'm checking my extra items and gold I've saved to see what I can give out. The contest will run through July and August.

I'm going to release a set of side characters on August. They can also be drawn for the summer contest. I might release a set of side characters this month as well, but it will depend on how much work I'll be given this month.
June 29th, 2012
I'm setting up a side contest for summer. It will run for July and August. I'll reveal it on July 1st with the remaining extra post in the first page.

I'm deciding on how many prize places there will be. I'm thinking around three or four. Any entries for this side contest are still eligible for the main part of the contest. Just trying to give people more options.

I'm feeling a bit more better. Still have a cough, but it's not as painful any more.
June 25th, 2012
Still sick, but making an update that I'll be put on a two week project at work, so I'll be busy IRL. I cannot provide further information beyond that. I am trying to get better as soon as possible so I can work without coughing out a lung.

Update: I will be working every day from June 25th the July 6th from 9am-5:30pm. I might be free during weekends, but I take care of my 1 year old cousin on weekends. Just letting you guys know in case anyone is wondering where I am during the day. I might not be online at night either since I still need rest. Was coughing most of the day at work and I feel kind of bad for the people around me.

I will be online to distribute monthly contests prizes at the end of June. For July, I will scale up the artist monthly contest a bit, so keep an eye on that.
June 21st, 2012
I appear to have caught something and absolutely have no voice. I should be resting, so if people see me online at odd hours, feel free to slap me around a bit. I would probably deserve it.

I have more refs sketched out. I'll try to colour and post them as soon as I'm well enough to.
June 18th, 2012
Going to EA today around 2pm for an orientation. I'm not sure when I will be back home, but I am thinking of adding another side contest of some sort. Gaia anniversary is on the 19th. I keep forgetting about that.

I'm also double checking item values on the prizes and making updates wherever necessary. I added another pair of wings to the wing category to increase the prize value a bit.
June 16th, 2012
Dealing with some things IRL. I'll still try to be online whenever possible. Last day of the bi-weekly contest. Gold will be granted by then.
June 10th, 2012
Some browsers were showing vertical scroll bars in the posts when I checked. I think I may have fixed it.
June 8th, 2012
The sixth post of the thread is now dedicated to avatars. Going to add more during the next few days for the other characters.

Also switching a few other posts around in to organize the posts a bit more.
June 7th, 2012
I'm working on avatar outfits now for the characters. You should start seeing them later tonight. Keep in mind that the hairstyles won't be exact unless I were to make avatar edits. You'll still need to refer to the character profiles for things such as hairstyle, scars, etc.
June 5th, 2012
Gah. I broke my main character profile page since the edit feature is pretty buggy. Don't look at the main page until I get this resolved. I'll link to Atticus and Cesium to the character post of this thread as soon as possible.



Update: The Charahub dev replied quickly and fixed it.
June 4th, 2012
There was some funky things going on a few days ago and it appears that mules were stacking the first option of the poll. The accounts were posting in the thread and then deleting their posts soon after. I'll wait a bit before I decide to make avatar outfits for the characters.

Working on the CSS for the character pages on Charahub since the default light green is driving me nuts. Also adding more information and drawing more refs again now that I have the new computer set up.
June 1st, 2012
Congrats to lnvincibIe, ZuchiniMuumuu, and GoldFishSock for the artist monthly contest. Congrats to F A U X S H 0 W for the BG monthly contest.

Other than that...spoiler tags? Oh, man. I've been waiting for this feature for so long. That means I can keep past updates from now on. I'll also use it for the relationship section so I can write a bit more.
May 31st, 2012
I will be doing rolls for the monthly contests tomorrow when I wake up.

(Did them around midnight.) Good luck to everyone who participated and good luck to those who are participating in the next round.

Also, now that I have a new computer and won't have to worry about the computer exploding, I'm properly drawing new character references. New height charts with proper body types will be drawn instead of merely addressing height. I need the practice.

I also added another rendition to the renditions page of Jikal and Quil's alternate colours. This isn't new. I just had forgotten to upload it to the gallery.
May 29th, 2012
Installing programs at the moment to the new computer. I may be on and off during the day. Haven't gotten around to installing my Cintiq yet. Dealing with my drawing and music programs first.

Maybe I can finally finish some music themes for my characters for your guys to listen to now that I have a computer that won't kill itself upon opening the program. I've been aching to compose music again for a few months now.
May 28th, 2012
Have my new computer now. Double checking that I have things backed up. I'll try to work on some things as soon as possible.
May 25th, 2012
Made a new poll since I am curious as to what you guys think about this. You will still need to refer to the character profiles, but this may make things easier for outfit ideas.

They will not be anything set in stone. Think of them as a base or inspiration and let your creativity take care of the rest.