Saihanna
(?)Community Member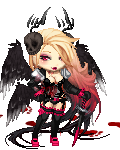 Posted: Sun, 18 Nov 2012 20:07:10 +0000
Hello one and all! I am currently hosting a contest on deviantart called 'memories' for more information click the link below! But for now here are the basics!

What's it about?
Choose from a list of the oc's given, for each I have a brief past written up for them, just draw something from their 'memories', be creative though! That'll score more points!
RULES:
1.) NO bases or tracing. 100% original art!
2.) Be creative! But follow the story lines given.
3.) Only 2 entries per person.
4.) Can be chibis, fullbodies or any sort of shot.
5.) The contest will end on December 20. This may be extended depending.

What will I be judged on?
In order:
1.) Creativity!
2.) Effort.
3.) Skill.
Prizes:
1st place-
25$
3 Month Prem membership
3 llamas
Full body full color
2nd Place-
10$
3 llamas
Bust shot full color
3rd Place-
5$
3 llamas
Chibi full color
For more information click the link below! Thank you for your time! And good luck!
Memories