Wishlist
The Doll's Downfall
Description: Alas, whilst the prince spouted words of love, his smile never reached his empty eyes. The princess soon realized the Puppeteer's magic could not influence one's emotions, only their actions.

The prince became nothing but a puppet, controlled and without feeling. This drove the princess into madness. However, it was too late.

One by one, her subjects started to fall like marionettes with their strings cut. Through the deal, she had given her everything: herself, her people, her kingdom.

A single tear trailed down the princess' ashen face before she, too, slumped to the cold floor.

From the shadows, the Puppeteer emerged. He reached into the princess' chest and retrieved a small glowing orb, smiling as his collection grew by one more.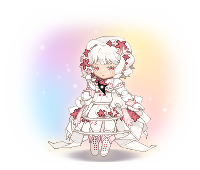 Price: This item has no specific price
Store: Not currently available
Gender: Any
Date first appeared on Gaia: 2021-01-16
Marketplace
Find listings for The Doll's Downfall in the Virtual Item Marketplace