Yindraia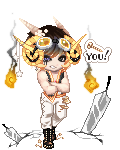 About
Hi, I'm the Gaian formerly known as Sakuya Rain, I appear every so often to change my avatar so people know I still exist.
I like cooking more than I do eating, unless it's dessert then I'd rather eat it than cook it. I love animation, cartoons, anime, CG, animatics (especially of fandom and musicals)

My currently obsessions are, Voltron: Legendary Defender, Miraculous Ladybug and modern musicals.

My constant obsessions are Daria and Bob's Burgers.





gaia_diamond Have a nice millenium. gaia_diamond
Signature