About
Name: Marcus.
Location: Sweden.
Music style: Metal, Emo, Screamo, Harcore, Rock, Techno, Trance, J-rock.
Clothing style: Emo/Fashioncore.
Hobbies: Playing PC-/TV-games, Movies/Animes, Music, Being with friends, drawing, and edit pictures in Photoshop, I might even have a few tricks and tips for you if you're intrested.
Likes: Lollipops... and... You for reading this! And I like Random Comments and PM's. So gimme one!
My Dream Avatar
I'm Questing for ...
... And a ...
Any dontions are accepted! <3
heart Donators heart

Ill-bred Haemorrhoid (8000G) <3<3
Anime fuunsaki (Flame Sword) <3
cute4ever and ever (1000G) <3
Bleach1000 (1000G and some items) <3
cool-cassy (1000G) <3
Meikiki (1000G) <3
Darkcreeper45 (500G) <3
Silveroni2006 (500G) <3
young_FighterZ (500G) <3
---------------
This is me: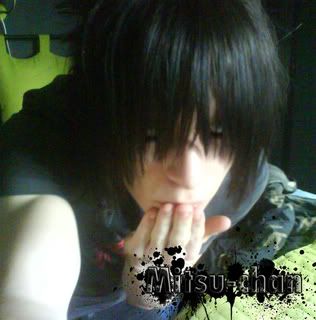 You don't need to tell me I'm ugly, because I obviously already know...
Friends
Viewing 12 of 32 friends
Journal
I will not die.
Leave me a comment if you have time!
heart
Is this all a dream?
Multimedia