About
Hello, everyone!!!! My name is Maia.... I'm not sure if i should've announced that to the world, but, hey... Whatevs. So, anyway, I guess i should tell you about myself.
3nodding
I like cats, fu.cked up music, scary movies, chocolate, drawing, and nature!!!!! Wee! isn't that exciting? I like to spend my time drawing or reading and I'm not much into sports. I do like to go horseback riding, though! Hmmm, what else? Well, some of my favorite movies are Rocky Horror Picture Show, The Lost Boys, Spirited Away, and Kiki's Delivery Service (gotta get some little kid movies in there, lol.). Although, I like scary movies I like a lot of comedies, too, but there are just too many to list here... ALSO, my favorite T.V. show is Doctor Who!!!! I haven't quite caught up to the current episodes BUT it's the most amazing show I've ever seen! I'm currently obbsessed with David Tennant who plays the 10th Doctor. His hilarious and amazing.
heart
Anyway.... I guess i should explain my profile a little bit since nobody really knows the Bolshoi.... They're an old underground 80's band.
biggrin
I absolutely LOVE 80's music! I also like other music; such as, screamo, rap, hip-hop, alternative, rock, pop, and basically anything you can think of besides country and bluegrass. Hmmm... What else? Well, my favorite foods are lasagna and if we're talking desserts... anything that's chocolate. lol. Who doesn't like chocolate? (besides 2 of my friends. they're such wierdos!) Also, I draw allllllll the time! I'm desperately trying to improve my skills and would love any critiques or suggestions! (some of my pictures are posted below) Pencil is my main medium as you can see. ;D OK, i feel like that's enough about me; tell me about you! I love receiving PMs from random people! Don't be shy!
mrgreen
I will almost always reply. Alrighty then... Goodbye!!!
heart
P.S. PLEASE, PLEASE do not steal my artwork!! If you do I will be very sad b/c I've wroked very hard on them.
P.P.S. here's a little pic of my obbsession the Doctor (he's a Timelord, nbd):
Here's another picture of David Tennant BUT I drew this one
3nodding
(It's only an inch by and inch and it took me an hour (it looks way better up close)):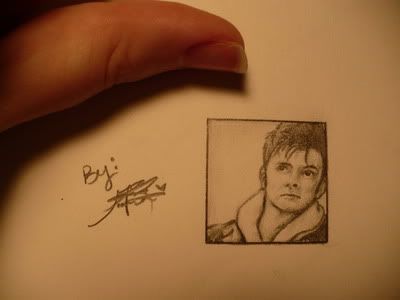 And lastly, here's another picture I drew, but this time it's of Kiefer Sutherland who I adore as well. (It's a shame he's so old now! TT__TT) He was in the Lost Boys... This picture's actually a work in progress and it's taken me over a year. But that's only because I'm such a procrastinator! If I mess up I refuse to work on it for months at a time. lol.: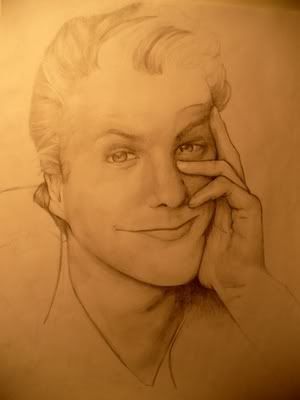 Journal
My Forest of Dreams
Hello, young fellow! How nice of you to stop by, if you are rude i will stab you in the eye. Have a nice day and remember that rudeness will pay! (lol. don't ask.)
Multimedia