x_S p i r a l BUNNEH_x
Details
Last Login

08/15/2015 3:35 pm

Member Since

07/13/2007
Gender

Female

Website
---
Interests
Favorite Movies/Anime
Favorite TV Shows
Favorite Reads
Favorite Music/Bands
Hobbies/Interests
About
My rebirth name is Clementine (It's kinda an inside joke thing) or my birth name is Richelle xP
I'm pretty obsessed with things, why don't you ask and find out? ;D My dream is to do something I love. :3 Mainly graphic designer. I've been told I don't act my age, I'm not sure if that's true or not. I love art<3 If you drew me art, I'd freaking love you forever <3
Milla Jovovich; my hero
Amazing Art!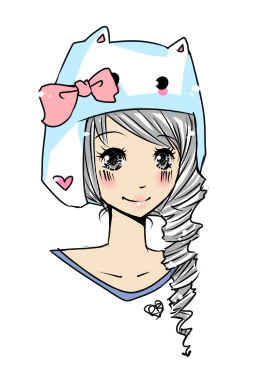 R.I.P Dynomite
R.I.P Louie
R.I.P Hamburger
R.I.P Addie
R.I.P Pablo
R.I.P April.
R.I.P Leah the duck.
R.I.P Jude
R.I.P Beep Boop
R.I.P Sierra
R.I.P Tucker
Every pet I've ever heard of passing away is added to this list.
Friends
Viewing 12 of 51 friends
Journal
Random crap need to update
Blahh too lazy xD GO SOMEWHERE ELS D<
Multimedia
Signature

I draw...art...occasionally.
I'm looking for someone to code profiles?