About
I would love fan art, please? :]
Me;
I'm a girl. I have potential, so people say. I have dreams. I have regrets. I have the biggest regret of my life; but they brought it onto themselves... I try to live my life to the fullest. I love my friends. I love knives. I love fire. Say what you want about me, it's not going to phase me. I'm moving on with my life with a smile on my face. I wish to be a vampire. My friends think I can pull off looking like one if I truly wanted to. That's my next task in my life. I currently dream of death and wonder if staying alive is what I should do. If you want to know anything then just message me.
I am:
messy, irritable, depressed, fragile, worrying, emotionally sensitive, does not like to lead, phobic, weird, suspicious, low self control, paranoid, frequently second guesses self, dependent, unproductive, introverted, weak, strange, unassertive, submissive, familiar with the dark side of life, feels invisible, rash, vain, anti-authority, heart over mind, low self concept, disorganized, not good at saving money, avoidant, daydreamer, unadventurous.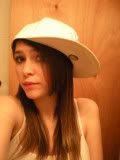 _____________________________________________________________
h
ho
hol
holl
holly
hollyw
hollywo
hollywoo
hollywood
hollywood u
hollywood un
hollywood und
hollywood unde
hollywood undea
hollywood undead
Journal
it's an evil world.. so lets eat cookies xD
uhm some stuff lol..
Multimedia
Signature
Angel and Steven Ortiz Forever. 4-16-09