About

I am THE Mistress.

What that entails is entirely up to me. Though, from my typical attire and the art on here, it does suggest sexual in nature, but it's not always the case.
I picked this name because the word mistress is diverse. It has more than one meaning. The female master of their trade, or the female head of the household (to name a couple). Mistress is a title of power given to a woman, much like a dominatrix,
but not always sexual. You may call me: Dita.

I've been a member of Gaia since late 2008 under numerous different accounts. Instead of you trying to figure out who, I'll just come out and tell you.
Some of my previous, more well known, accounts are: Dominatrix Dita, II Mistress Mimi II, Leila the Servant,
Blood Rose Lilith, FFXII_Fran, and II Selphie Tilmitt II.

Why am I telling you them? Well, to be honest, I'm getting tired of hiding. If you still hold grudges against me from one or more of these accounts then just block me. I don't care. I'd like to leave the past in the past.



If you are an artist, and are interested, click here.


It will lead you to my thread where I'm giving prizes in exchange for avi art.

Journal
My Characters and More
Here is all my characters that I roleplay and more.
Multimedia
Signature
My current RP craving:

Click here


My complete RP list:

Click here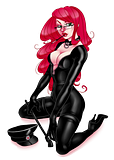 Art by: carrionface