About
Name: Smith Solomon
Occupation: Enginer, soldier
Abilities: Telekinesis, (limited) telepathy
Bio: Celio ran all the memmories out that came before thir project. *see journal or below* Smith knows only that he is as he is. Sometimes feels like he must've been like this always. Troublesome dreams of gentler times disrupt that.
Likes: Plants, building, demolitions, work, quite games, little kids
Disslikes: having plans blow up in his face, not being able to work, anything that makes him look like an idiot (unfortunately that's alot of stuff DX)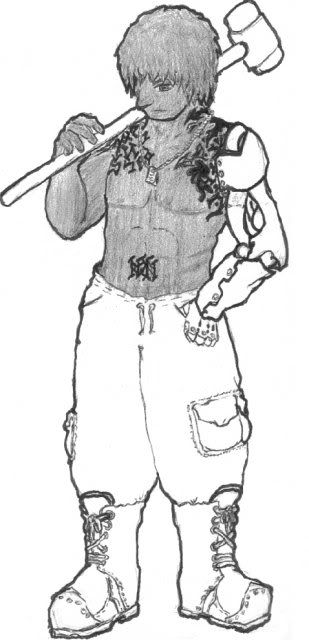 Thanks to Decrazysheep for the pick!
In another age, another world, God was the enemy.
We were sent again and again all those who bore that name.
We were titans.
I am Smith by name and nature, I helped to create many of the upgrades my comrades used in battle. I worked for Celio, who implanted nanbots and a mirraculous virus that rewrote my dna. This put me on equal playing field with those infected by a similar virus used in a terrorist attack(Gods).
No, it made me stronger, the nanobots kept the virus from killing me at the end of the year.
I was almost immortal. Almost. After learning Celio was using us to create 'evolutions' in weaponry, they sent an agent named Tyr after me.
The death's of billions were only a field test, and Tyr was the next prototype.
He.. displaced me.. setting me in a new reality.
As was my duty there, it is my duty here to stomp out those with 'god' like power. Unlike my comrades, I am not a beserker who loses their mind in these people's pressence. But I know that it has to be done, eventually.
Friends
Viewing 2 of 2 friends

Journal
A Titan's odessy
I'm going to put down what's happened to my rp character whilst he's in this mixed up world. I'm also goping to put his perspective on a few happenings from his world so you can get an idea of what it's like. that is, if you give a damn.