Sincerely Insane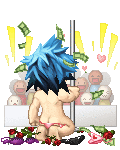 Details
Member Since

04/19/2008
---
Interests
About
Hi my name is Louie.
Anything you want to know? Please PM or comment
I have a couple people on my ignore list, so lets keep it that way
whee
but this
thread
should remind you that i have a demonic side and i don't want to be mean
My BEAUTIFUL layout by Momoko Shinigami
Here is her shop link:





Sincerely,
Insane
Journal
ME
Multimedia
Signature
I'm a Stripper! Throw me some gold?