About
(scroll down)
I love music, art, watching movies and hanging out with friends. (who doesn't?)
Pets: 1 rat, 3 cats, 1 dog
Random crap i do: drawing, sports, and making s**t out of duct tape
<3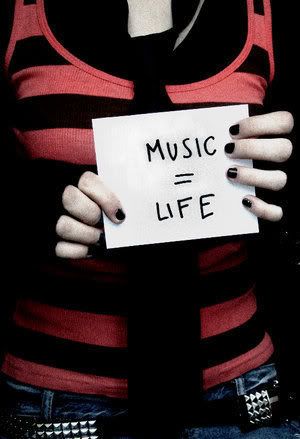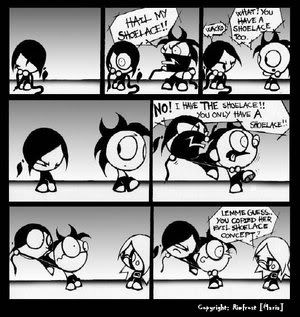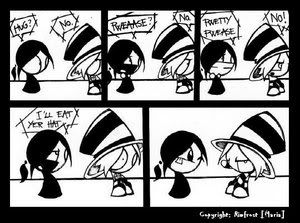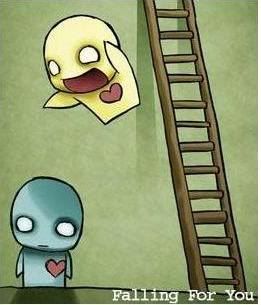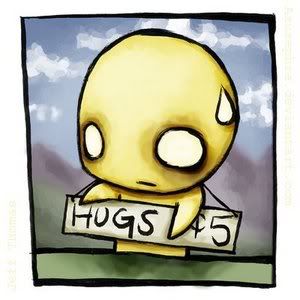 Best things in life:

i <3 the rain
Cult Master :
* THE SAVANNAH or SAVY!! (bow down)
Food:
* pockey
* energy drinks (full throtle)
* cheesits w/ blue jello (just try it)
* fruit (sorry mike)
Movies / Shows:
* invader zim
* monte python and the holy grail
* van helsing
* v for vendetta
* the road to El Dorado
* the road to camelott
* and like a thousand more!
Places:
* mall (like we have a choice)
* beach (go fire ppl!)
* movies
* nicki's house
Manga / Anime:
* death note
* JTHM
* leanore
* ares
* dnangel
AND . . .
* emo GUYS!!


Questions i ponder about:
? You know the speed of light, so what's the speed of dark ?
? If Barbie is so popular, why do you have to buy her friends ?
? Why "abbreviated" is such a long word ?
? Why the man who invests all your money is called a "Broker" ?
? Why women can't put on mascara with their mouths closed ?
? If one pom-pom is call a pom-pom . . . then what is two called ?
Some icons




]
"It's amazing how easy it is too loose the things in your life you thought u would have for ever"
- City of Bones (book)
"Evening news is where they begin with 'Good evening', and then proceed to tell you why it isn't"
"Death is hereditary"
"Don't regret doing things, regret getting caught"
"If it weren't for electricity we'd all be watching television by candlelight."
-George Gobol
"I am prone to spontanious combustion!"
"A tree never hits an automobile except in self defence."
"Researchers have discovered that chocolate produces some of the same reactions in the brain as marijuana. The researchers also discovered other similarities between the two, but can't remember what they are."
Friends
Viewing 10 of 10 friends
Journal
journal
u get to see wat going on in my head. (scary thought i no.)
Multimedia
Signature