Ramtasma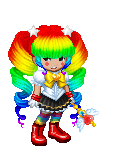 Details
Member Since

05/30/2005
Occupation

Peruvian Platypus Farmer

Gender

Female
About

Oh snap, I updated.

THAT BE MY CAT RIGHT DOWN THAR.




GIVE HIM A HUG? :"D
Journal
Ramen-Chan's Random Ramblings!
Weeeeeeeeeeeeeeeeeeeeeeeeeee! X3
Well. Read the title and I think you may get the basic idea? o_o;
Signature
OH LOOK. I'M KINDA NOT REALLY ALL RIGHT SURE WHATEVER I GUESS BACK.

Awesome sign of awesome. <3 Thanks Yammykins!