poisonivy1219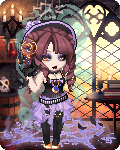 Details
Last Login

05/28/2018 1:47 am
Gender

Female

Birthday

07/12
---
Interests
Favorite Movies/Anime
Favorite TV Shows
Favorite Reads
Favorite Music/Bands
About
hello i'm ivy :]
I've just returned from a hiatus. A lot has changed since then and I am more than happy about all that has changed. I definitely feel more grown up than I was when I first started playing on this site, however I'm still kinda as pervy as I was before, I'm still the same girl, but more awesome now. ;D

Faves:
Comic books.
Poison Ivy and Harley Quinn.
Drawing.
Video Games.
Jewelry Making.
tbem

Hates:
tbe

feel free to talk to me about things and what not.
I don't bite too hard.
Journal
PoisonIvy's Journal
just a place for me to show stuff off and for me to put stuff.