About
i have the best three friends in the world. cant live with out them.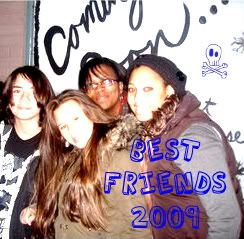 with out them in my life. i wouudd be like. DEAD. hahha
theres Jordan, Maria, and Adriene <---crazy hhaa
I am in high school, i am in 10th grade (BLAH)
i live..... ahhaahah you thought i wudd say it. for all those dumb stalkers. NOT. i always do random adds. hahah im friends with everyone. my ex friend is Animassccre. or w/e. she believes when she shudd believe me. anywayyy.
add me
and YES i do give gold. only if you need it. Donations toward gaia dream avis are my specialty. ahahaha
if you give me. i give you
Friends
Viewing 12 of 172 friends
Journal
Fugly Princess
no body really cares about life so why not here my life
Multimedia
Signature