Pikameu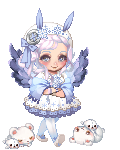 About
I love animals, green, cute stuff and my loved ones.
I like the Lake Kindred game to an extent, but don't use Gaia for much else these days except to dress up my avatar.
I play many video games and love geeking out with people over shared hobbies.
~~~
Kayuri-Chan remade this picture. ;D
My favorite thread, and my threads:
Monkey Toes
We draw for fun, for you!
FIERCE ART
Friends
Viewing 12 of 214 friends
Journal
Things are fun to blab out.
Here's a bunch of random things that feel good to type for fun, and I'd also hope that I might make friends here too. Well, anyway, I'm bored... Mostly used for me freaking out.
Multimedia